Copa Airlines also has direct flights from most North American Cities direct to David (layover in Panama City for immigration). Leave your house and be in Boquete THAT SAME NIGHT!! Wow!
The Boquete Outdoor Adventures Office is located in Plaza Los Establos, Central Avenue, Boquete, Panama. We are in the same Plaza as the Kotowa Coffee Shop, Canopy Tree Trek, Banco General, and Habla Ya Spanish School. We are a block south from the Central Park where the bus makes its last stop.
Back to Top
How to travel from Costa Rica to Panama:
Option 1: "More Time, Less Money"  BUS – An 8-hour daily bus ride from San Jose, Costa Rica with the Tracopa Bus Company. $21 each way. Advanced reservations are not necessary, however it is a good idea to buy your ticket the day before, and you can only buy your tickets at the Tracopa Bus Station counter.
The ride will go through the Costa Rica – Panama border town, where you will need to get off the bus, pay an exit fee of $5, get your exit stamp at the immigration window, walk about 100 meters towards Panama, get your entry stamp at the Panama immigration window, have your luggage searched, and get back on the bus. The process can take anywhere from 30 minutes to 2 hours or more. When entering Panama, the immigration officer may check for $500 cash, credit cards, bank statements, and proof of an exit flight out of Panama. If you are missing something, they may not let you enter and you could get stuck at the border. When back on the bus, it will be 1 hour more until you arrive in David.
Option 2: "More Money, Less Time" FLIGHT – Air Panama offers flights from San Jose Airport (SJO) to the David Airport (DAV). The flights are Monday, Wednesday, Friday around 11am and cost around $120-160/p each way. The flight time is under an hour. There is a one-hour time difference between Costa Rica and Panama. To make your reservations, go directly to the company's website and search for your dates. UPDATE: FLIGHTS MAY NOT BE AVAILABLE AT THIS TIME.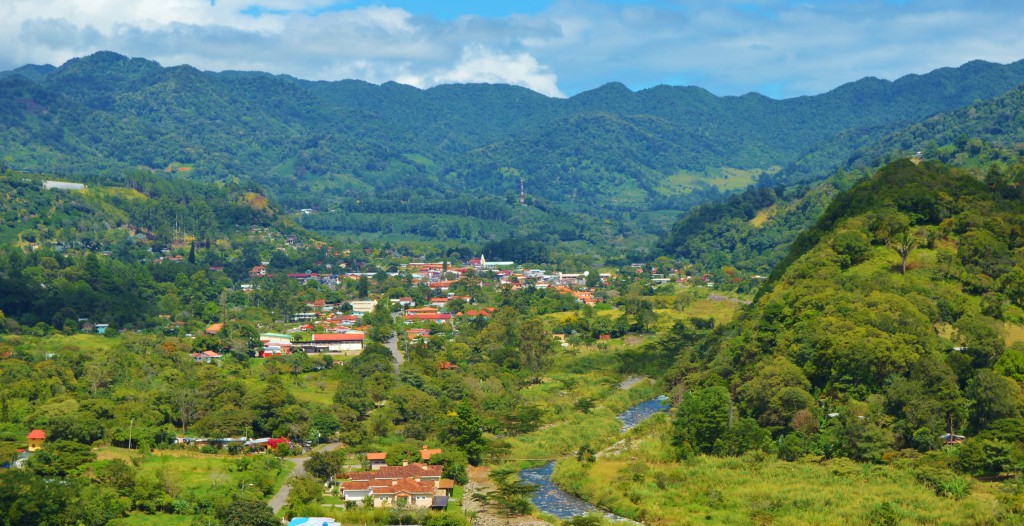 How to travel from Anywhere in the world to Panama:
The following is a "Complete List of Airlines" with DIRECT flights to Panama City via Tocumen International Airport (PTY) or Albrook Airport (PAC). All flights below are through Tocumen International (PTY) unless otherwise stated.
ARGENTINA:
Copa Airlines: Buenos Aires–Ezeiza, Córdoba
ARUBA:
Aruba Airlines: Aruba
Copa Airlines: Aruba

BAHAMAS:
BELIZE:
Copa Airlines: Belize City
BOLIVIA:
Copa Airlines: Santa Cruz de la Sierra–Viru Viru
BRAZIL:
Copa Airlines: Belo Horizonte–Confins, Brasilia, Manaus, Porto Alegre, Recife, Rio de Janeiro–Galeão, São Paulo–Guarulhos,
CANADA:
Air Canada: Toronto–Pearson
Air Transat: Montréal–Trudeau (seasonal), Toronto–Pearson
Copa Airlines: Montreal–Trudeau, Toronto–Pearson
Sunwing Airlines: Toronto–Pearson, Montréal–Trudeau (seasonal)
CAYMAN ISLAND:
Cayman Airways: Grand Cayman (seasonal)
CHILE:
Copa Airlines: Santiago de Chile
COLOMBIA: 
Air Panama (Albrook Airport PAC): Armenia, Medellín–Córdova
Avianca: Bogotá
Copa Airlines: Bogotá, Cali, Cartagena de Indias, Medellín–Córdova

Copa Airlines Colombia:

Barranquilla, Bogotá, Bucaramanga, Cali, Cartagena de Indias, Cúcuta, Medellín–Córdova, Pereira
COSTA RICA:
Air Panama (Albrook Airport PAC): San Jose
Avianca Costa Rica: San José
Copa Airlines: Liberia, San José
CUBA:
Copa Airlines: Havana, Santa Clara
CURAÇAO:
DOMINICAN REPUBLIC:
Copa Airlines: Punta Cana, Santo Domingo
ECUADOR:
Copa Airlines: Guayaquil, Quito
EL SALVADOR:
Avianca El Salvador: San Salvador
Copa Airlines: San Salvador
FRANCE:
Air France: Paris–Charles de Gaulle
GERMANY:
Condor: Frankfurt
Lufthansa: Frankfurt
GUATEMALA:
Conviasa: Managua
Copa Airlines: Guatemala City

Copa Airlines Colombia:

Guatemala City



GUYANA:
Copa Airlines: Georgetown–Cheddi Jagan
HAITI:
Copa Airlines: Port-au-Prince
HONDURAS:
Copa Airlines: Tegucigalpa
JAMAICA
Copa Airlines: Kingston, Montego Bay
MEXICO:
Aeroméxico: Mexico City, Monterrey
Copa Airlines: Cancún, Guadalajara, Mexico City, Puebla, Villahermosa
NETHERLANDS:
NICARAGUA:
PANAMA (domestic flights):
Air Panama (Albrook Airport PAC): Bahia Piña, Bocas del Toro, Carti, Changuinola, Chitre, Contadora, Corazón de Jesus, David, El Porvenir, El Real, Garachine, Isla San Jose, Jaque, La Palma, Mamitupo, Mulatupo, Pedasi, Playon Chico, Puerto Obaldia, Rio Sidra, Sambu, San Miguel, Tubuala, Tupile, Ustupo
Copa Airlines (Tocumen Airport PTY): David
PARAGUAY:
PERU:
PORTUGAL:
PUERTO RICO:
SAINT MAARTEN:
Copa Airlines: St. Maarten
SPAIN:

TRINADAD AND TOBAGO:
Copa Airlines: Port of Spain
URUGUAY:
Copa Airlines: Montevideo
USA:
American Airlines: Dallas/Fort Worth, Miami
Copa Airlines (affiliate of United): Boston, Chicago-O'Hare, Fort Lauderdale, Las Vegas, Los Angeles, Miami, New Orleans, New York – JFK, Orlando, San Francisco, Tampa, Washington-Dulles

Delta Air Lines: Atlanta
Spirit Airlines: Fort Lauderdale
United Airlines: Denver (seasonal), Houston–Intercontinental, Newark
UNITED ARAB EMIRATES:
Dubai International: Dubai
VENEZUELA:

Avior Airlines: Barcelona
Conviasa: Caracas
Copa Airlines: Caracas, Maracaibo, Valencia
SBA Airlines: Caracas
Venezolana: Maracaibo
Complete List organized by airline:
Aeroméxico: Mexico City, MEXICO
Air Canada: Toronto–Pearson, CANADA
Air France: Paris–Charles de Gaulle, FRANCE
Air Transat: Montréal–Trudeau (seasonal), Toronto–Pearson, CANADA
American Airlines: Dallas/Fort Worth, Miami, USA
Aruba Airlines:  Aruba, ARUBA
Avior Airlines: Barcelona (VE), SPAIN
Avianca: Bogotá, COLOMBIA
Avianca Costa Rica: San José, COSTA RICA
Avianca El Salvador: San Salvador, EL SALVADOR
Cayman Airways: Grand Cayman (seasonal)
Condor: Frankfurt, GERMANY
Conviasa: Caracas VENEZUELA, Managua GUATEMALA
Copa Airlines: Aruba, Asunción, Belo Horizonte–Confins, Bogotá, Boston, Brasilia, Buenos Aires–Ezeiza, Cali, Campinas, Cancún, Caracas, Cartagena de Indias, Chicago–O'Hare, Córdoba, Curaçao, David, Fort Lauderdale, Georgetown–Cheddi Jagan, Guadalajara, Guatemala City, Guayaquil, Havana, Iquitos, Kingston, Las Vegas, Liberia (CR), Lima, Los Angeles, Managua, Manaus, Maracaibo, Medellín–Córdova, Mexico City, Miami, Montego Bay, Monterrey, Montevideo, Montreal–Trudeau, Nassau, New Orleans, New York–JFK, Orlando, Port-au-Prince, Port of Spain, Porto Alegre, Puebla, Punta Cana, Quito, Recife, Rio de Janeiro–Galeão, San Andrés Island, San Francisco, San José (CR), San Juan, San Pedro Sula, San Salvador, Santa Clara, Santa Cruz de la Sierra–Viru Viru, Santiago de Chile, Santiago de los Caballeros, Santo Domingo, São Paulo–Guarulhos, St. Maarten, Tampa, Tegucigalpa, Toronto–Pearson, Valencia (VE), Villahermosa,Washington–Dulles
Copa Airlines Colombia: Barranquilla, Bogotá, Bucaramanga, Cali, Cartagena de Indias, Cúcuta, Guatemala City, Medellín–Córdova, Pereira
Delta Air Lines: Atlanta, USA
Iberia: Madrid, SPAIN
KLM: Amsterdam, NETHERLANDS
Lufthansa: Frankfurt (begins 16 November 2015), GERMANY
SBA Airlines: Caracas, VENEZUELA
Spirit Airlines: Fort Lauderdale, USA
Sunwing Airlines: Toronto–Pearson, Montréal–Trudeau (sesonal), CANADA
TAP: Portugal, Lisbon, PORTUGAL
United Airlines: Denver, Houston–Intercontinental, Newark, USA
Venezolana: Maracaibo, VENEZUELA