Price: $40 per person      Duration: 4 Hours
Explore one of the last remaining habitats of the Resplendent Quetzal, in the virgin cloud forests of Boquete, Panama.
What's Included:
Roundtrip Transport
Knowledgeable Bilingual Guide
Trail Entrance Fees
Refreshments
Bird-Watching Highlights:
Waterfalls and Cloud Forests
Resplendent Quetzal
Glass-Winged Butterfly
Orange-Bellied Trogon, Scarlet-Rumped Tanager, Three Wattled Bellbird, and Hummingbirds
Bird-Watching Trip Description:
With more than 1,000 different species of birds, Panama is a bird-watcher's dream. With the highest concentration of endemic bird species, Boquete's cloud forests and ecosystem have numerous trails that feature one of the world's most elusive birds, the Resplendent Quetzal, Three Wattled Bellbird, Caracara, as well as numerous hummingbirds. Having a guide knowledgeable about the area is key to spotting many of Panama's rare and exotic birds. If you are an avid bird-watcher, a group of friends, or a family interested in the flora and fauna of Boquete's cloud forest, enjoy a fun, one-of-a-kind, educational, and interesting bird-watching tour.
Price:
**Special Online Price: $40 per person (reduced for a limited time).**
Regular Price: $60 per person (Half Day)
Regular Price $95 per person (Full Day)
Add on lodging for even greater discounts on your Panama vacation!  Be sure to inquire into our lodging and tour packages!  See a few examples here. For the best rates, book Buena Vista Boquete through us or with Buena Vista Boquete directly here.  Otherwise, you can book Buena Vista Boquete through booking.com.
Internet Special prices are subject to change at any time.
Discount price is not available on existing or third-party reservations.
Must reserve first directly with Boquete Outdoor Adventures.
Special price may not be available during holiday weeks or peak season dates.
Reserve your space directly with us. BOOK NOW!
Time:
Morning Tour: 7:00am – 11:00am (flexible times)
Afternoon Tour: 1:00pm – 5:00pm (flexible times) (not available June-Oct)
Full Day Tour Available
Location:
Boquete Cloud Forests, Chiriqui Province, Panama. How to get to Boquete.
Weather:
The tour goes to a higher elevation in the cloud forest which is generally cooler. Generally, the early mornings are best for birdwatching and weather conditions. We do not recommend it during the afternoons during the rainy season months of June-October.
Meeting Place:
At the BOA Office in Plaza Los Establos on Main Street in Boquete. How to get to our office in Boquete.
Lodging Options:
There are various hotel options in Boquete to fit your specific budget and preferences. We offer special lodging partner pricing with Buena Vista Boquete and can easily make your reservations. See some of our packages here. For the best rates, book Buena Vista Boquete through us or with Buena Vista Boquete directly here.  Otherwise, you can book Buena Vista Boquete through booking.com.
Trip Notes:
Various trails can be chosen for fitness levels and abilities.
Short sections of the trail are steep uphill climbs.
Trip details may change due to severe weather or unforeseen events.
Approximate Tour Schedule (approximate times that can change daily):
8:00am – 8:15am – Meet in office **Please be on time to not keep other guests waiting**
8:15am – 8:45am – Transport to Hiking Trail
8:45am – 11:45am – Guided Hike in the Cloud Forest
11:45am – 12:15pm – Return transport to Boquete
What To Bring:
Camera
Hat
Rain Jacket
Sturdy Shoes
Sun Block
Water Bottle
Binoculars and Scope (optional)
Tour Date Availability:
Please check out our TOUR SCHEDULE AND CALENDAR for trip dates.
Contact Us for Your Bird-Watching Tour Now!
Top
Featured Multi-Day Packages
More Days in Panama?
Panama Package Tours and Specials
Interesting and Exciting! – Best that Boquete has to offer – Whitewater Rafting, Coffee Tour of a gorgeous Fair Trade plantation, and Hiking in the cloud forest of…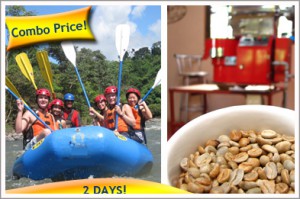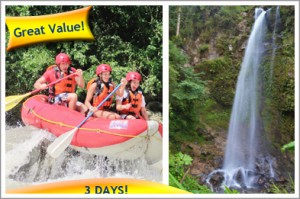 3 Days and 4 Adventures! – Whitewater Rafting, Island Trip, Waterfall and Wildlife Hiking, and a Coffee Tour in the best…
Extraordinary Adventures! – Panama Mountain and Island Tour – Whitewater Rafting, Coffee, Hiking, Zip Lining, Horseback Riding, and an Island Trip with Snorkeling with…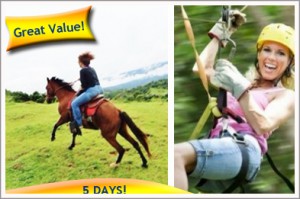 Panama Panoramic! – Experience everything you can do in Panama with this jam-packed itinerary with all the details taken care of! Highlights include the Panama Canal, Whitewater Rafting, an Overnight Island Trip to see monkeys and…