Price: $159 per person   Duration: 2 Days + Overnight

2 Days in the Gulf of Chiriqui National Marine Park: Relaxing Island Trip, Overnight Island Hotel (extra cost), Sea Kayaking, and Island Jungle Hike for Howler Monkeys.

What's Included:
All Tour Equipment and Transport
Full Lunch and Drinks (2 Day)
Sea Kayaking Guided Trip
Jungle Island Howler Monkey Hike
Experienced Bilingual Guides
Park Entrance Fees
Refreshments
Highlights:
Island Trip with Snorkeling
Guided Sea Kayaking
Wild Howler Monkeys
Whale Watching (July-Oct)
Trip Description:
This special package highlights the famous Gulf of Chiriqui National Marine Park, featuring pristine untouched islands with white sand beaches, coconut trees, and warm aquamarine water. The overnight jungle island hotel is a comfortable retreat from the hustle of the cities, and then a second day sea kayaking trip, lunch, and a guided hike to find indigenous howler monkey families.  
DAY 1 – Island Trip to the Gulf of Chiriqui National Marine Park

From Boquete, we'll drive 1.5 hours to Boca Chica, a small fishing village on the Pacific Coast. Then, we'll pass through the mangrove forested volcanic islands of Laguna de Chiriqui toward the the Gulf of Chiriqui National Marine Park, a 14,740 hectare marine park with uninhabited islands which serves as a refuge for howler monkeys, leatherback and hawksbill turtles, tiger herons, and exotic fish.
The sun tends to shine over the white sand, palm-lined beaches in Gulf of Chiriqui even when it's raining everywhere else! Depending on visibility and climate, we'll be snorkeling around one of the beautiful islands and pass the late morning and better part of the afternoon lunching, exploring, swimming, relaxing in a hammock, and playing on the white sand beaches of Isla Gamez or Isla Bolanos.
BONUS: It's humpback whale watching season July – October, if you've never seen these amazingly majestic creatures in their natural habitat, here is your chance to witness mothers and babies nursing in the protected waters of the National Marine Park.
Includes: Transportation, Park Entrance Fees, Knowledgeable English-Speaking Guides, Full Lunch and Drinks, Hammocks, Towels, Snorkel Gear, Water Floaties and Noodles, Private Boat and Licensed Captain
Does not Include: Hotel accommodations are extra depending on your preference. We can book for you a wide range of options from basic rooms up to deluxe rooms (price range $21-129 per person, double occupancy).
DAY 2 – Morning: Sea Kayaking / Afternoon: Howler Monkey Jungle Island Hike

We'll hop into one of our three types of kayaks: A) single enclosed sea kayak, B) single sit-on-top, C) tandem sit-on-tops (for less experienced, couples, or with children). We'll paddle a nice large loop past mangroves and up onto volcanic sand beaches to rest and eat some fruit and refreshments. There will be several hours of paddling, depending on your preference and desire. When the time is right, we'll head to a restaurant with gorgeous panoramic views of the fishing harbor, to have a late lunch of fresh fish or chicken, rice, a salad, and a drink.
After lunch, we'll explore the island on the hiking trails, looking for the local howler monkey families, or relax in a hammock, before heading back to Boquete after a complete 2 days of adventure.
Includes: Transportation, Knowledgeable English-Speaking Guide, Full Lunch and Drinks, Sea Kayaking Gear, Life Jackets, Safety Orientation.
Pricing:
**Limited Time Only** Internet Special if you book directly with us! $159/person + tax = $170.13/p
Regular Price: $190 per person.
Internet Special prices are subject to change at any time.
Discount price is not available on existing or third-party reservations.
Must reserve first directly with Boquete Outdoor Adventures.
Special price may not be available during holiday weeks or peak season dates.
Time:
Island Tour Day: 7:00am-4:00pm
Sea Kayaking Day: 9:00am-5:00pm
Location:
Gulf of Chiriqui National Marine Park, Chiriqui Province, Panama. How to get to Boquete.
Meeting Place:
At the BOA Office in Plaza Los Establos on Main Street in Boquete. How to get to our office in Boquete.
Lodging Options:
HOTEL NOT INCLUDED IN THE PRICE. We can offer a range of options for your budget ($21-79 per person) in a nice Jungle Island Hotel, or more upscale packed with amenities ($89-149 per person). Pricing is based on double occupancy. Please Contact Us for details on different group numbers.
Trip Notes:
Price subject to 7% tax.
Minimum age is 5 years.
6-person minimum
Participants should be in good physical condition for moderate sea kayaking of up to 3 hours.
Trip details may change due to severe weather or unforeseen events.
Based on availability, please Contact Us about available dates and spaces.
Discount price may not be available on holidays and peak season dates.
What To Bring For Your Trip:
Camera
Hat
Island Day Bag
Overnight Bag
Passport or Cedula
Sun Block
Sturdy Shoes
Swimming Clothes
Towel
Water Bottle
Water Shoes
Contact Us for your Sun and Sea Kayak Combo



Ready!

Taking a Break
Restaurant Lunch
Panoramic Views
Restaurant Lounge
Top
Featured Multi-Day Packages
More Days in Panama?
Panama Package Tours and Specials
Interesting and Exciting! – Best that Boquete has to offer – Whitewater Rafting, Coffee Tour of a gorgeous Fair Trade plantation, and Hiking in the cloud forest of…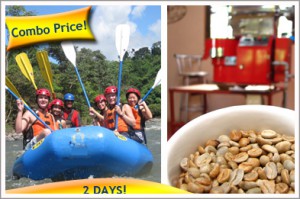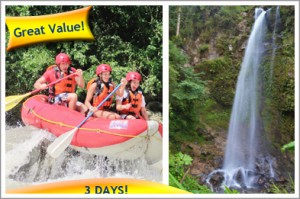 3 Days and 4 Adventures! – Whitewater Rafting, Island Trip, Waterfall and Wildlife Hiking, and a Coffee Tour in the best…
Extraordinary Adventures! – Panama Mountain and Island Tour – Whitewater Rafting, Coffee, Hiking, Zip Lining, Horseback Riding, and an Island Trip with Snorkeling with…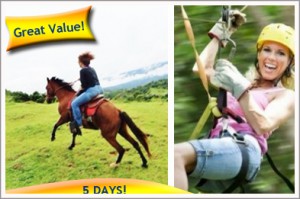 Panama Panoramic! – Experience everything you can do in Panama with this jam-packed itinerary with all the details taken care of! Highlights include the Panama Canal, Whitewater Rafting, an Overnight Island Trip to see monkeys and…