Price: $35 per person     Duration: 4 Hours
Enjoy Active Adventure and a Refreshing River running through the rare rock formations of the Cangilones Mini-Canyon.

What's Included:
Roundtrip Transport
Knowledgeable Bilingual Guide
Entrance Fees
Refreshments
Cangilones Highlights:
Cangilones Mini Canyon
Rock Formations
Free Climbing
Deep Water Soloing
Sunshine Relaxation
Los Cangilones Mini-Canyon Trip Description:
This is the perfect afternoon for those who just completed a morning hike, coffee tour, or other activity. Located in the district of Gualaca, these unique rock formations have survived time and weather. A river crossing the canyon allows jumping from it (up to 12 feet or 4 meters). Many people enjoy swimming in the aquamarine waters, others enjoy climbing the canyon's walls, and even more just like to relax and sunbathe on the warm rock surface.
The Canyon has been in Gualaca for thousands of years, as a geological formation that was pushed up from the ocean during the formation of the Isthmus of Panama. It's interesting to see ancient sea fossils at this elevation.
*Note:* this trip does not visit the Caldera hot springs. After feedback from clients as well as our own personal visits, we cannot recommend visiting the hot springs.

Price:
**Special Online Price: $35 per person (reduced for a limited time).**
Regular Price: $55 per person.
Add on lodging for even greater discounts on your Panama vacation!  Be sure to inquire into our lodging and tour packages!  See a few examples here. For the best rates, book Buena Vista Boquete through us or with Buena Vista Boquete directly here.  Otherwise, you can book Buena Vista Boquete through booking.com.
Internet Special prices are subject to change at any time.
Discount price is not available on existing or third-party reservations.
Must reserve first directly with Boquete Outdoor Adventures.
Special price may not be available during holiday weeks or peak season dates.
Reserve your space directly with us. BOOK NOW!
Packages with this Tour:
– 2-Day "Boquete Quick Combo" Package
– 2-Day "Coffee, Canyon, and Cloud Forest" Package
– 2-Day "Surf and Turf" Package
– 3-Day "Best of Boquete" Package
– 5-Day "Totally Chiriqui" Package
Time:
Morning Tour: 8:30am – 12:30pm
Afternoon Tour: 1:30pm – 5:30pm
Tours Monday-Friday recommended
Location:
Gualaca and Caldera Towns, Chiriqui Province, Panama. How to get to Boquete.
Weather:
The tour goes rain or shine. The location is further south of Boquete, in a generally sunnier and warmer area with less rain year-round. During peak rainy season months (Sept-Oct) there may be afternoon rain, but you are still able to swim in the river and canyon, and enjoy the trip. Only during flash floods and extreme weather events will we cancel this tour.
Meeting Place:
At the BOA Office in Plaza Los Establos on Main Street in Boquete. How to get to our office in Boquete.
Lodging Options:
There are various hotel options in Boquete to fit your specific budget and preferences. We offer special lodging partner pricing with Buena Vista Boquete and can easily make your reservations. See some of our packages here. For the best rates, book Buena Vista Boquete through us or with Buena Vista Boquete directly here.  Otherwise, you can book Buena Vista Boquete through booking.com.
Trip Notes:
Los Cangilones Mini-Canyon is vehicle accessible, being available to all ages and fitness levels.
There are no facilities at these locations, as the trip is in it's most natural and local form.
Trip details may change due to severe weather or unforeseen events.
Approximate Tour Schedule (approximate times that can change daily):
1:30pm – Meet in office **Please be on time to not keep other guests waiting**
1:30pm – 2:15pm – Transport to Cangilones Mini-Canyon in Gualaca
2:15pm – 4:45pm – Guided Cangilones Mini-Canyon Trip
4:45pm – 5:30pm – Return transport to Boquete
What To Bring:
Camera
Hat
Shoes
Eco-Friendly Sun Block
Sun Glasses
Swimming Clothes
Towel
Water Bottle
Contact Us for Your Canyon Tour Now!
Cangilones
Sunshine Fun
Mini-Canyon
Gorgeous Scenery
Mini Canyon
Cangilones
Cangilones
Cangilones
Canyon Jumping
Rock Formations
Beautiful Water
1..2..3.. Jump!
Top
Featured Multi-Day Packages
More Days in Panama?
Panama Package Tours and Specials
Interesting and Exciting! – Best that Boquete has to offer – Whitewater Rafting, Coffee Tour of a gorgeous Fair Trade plantation, and Hiking in the cloud forest of…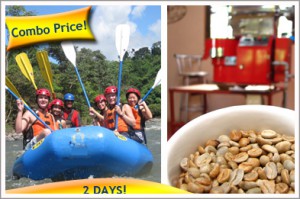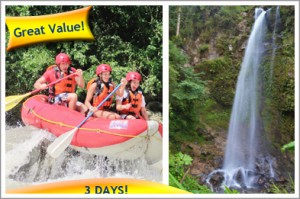 3 Days and 4 Adventures! – Whitewater Rafting, Island Trip, Waterfall and Wildlife Hiking, and a Coffee Tour in the best…
Extraordinary Adventures! – Panama Mountain and Island Tour – Whitewater Rafting, Coffee, Hiking, Zip Lining, Horseback Riding, and an Island Trip with Snorkeling with…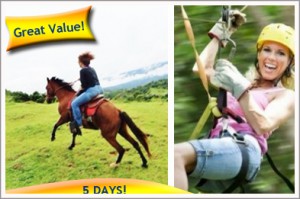 Panama Panoramic! – Experience everything you can do in Panama with this jam-packed itinerary with all the details taken care of! Highlights include the Panama Canal, Whitewater Rafting, an Overnight Island Trip to see monkeys and…