Price: $35 per person     Duration: 4 Hours
Enjoy Active Adventure and a Refreshing River running through the rare rock formations of the Cangilones Mini-Canyon.

What's Included:
Roundtrip Transport
Knowledgeable Bilingual Guide
Entrance Fees
Refreshments
Cangilones Highlights:
Cangilones Mini Canyon
Rock Formations
Free Climbing
Deep Water Soloing
Sunshine Relaxation
Los Cangilones Mini-Canyon Trip Description:
This is the perfect afternoon for those who just completed a morning hike, coffee tour, or other activity. Located in the district of Gualaca, these unique rock formations have survived time and weather. A river crossing the canyon allows jumping from it (up to 12 feet or 4 meters). Many people enjoy swimming in the aquamarine waters, others enjoy climbing the canyon's walls, and even more just like to relax and sunbathe on the warm rock surface.
The Canyon has been in Gualaca for thousands of years, as a geological formation that was pushed up from the ocean during the formation of the Isthmus of Panama. It's interesting to see ancient sea fossils at this elevation.
*Note:* this trip does not visit the Caldera hot springs. After feedback from clients as well as our own personal visits, we cannot recommend visiting the hot springs.

Price:
**Special Online Price: $35 per person (reduced for a limited time).**
Regular Price: $55 per person.
Add on lodging for even greater discounts on your Panama vacation!  Be sure to inquire into our lodging and tour packages!  See a few examples here. For the best rates, book Buena Vista Boquete through us or with Buena Vista Boquete directly here.  Otherwise, you can book Buena Vista Boquete through booking.com.
Internet Special prices are subject to change at any time.
Discount price is not available on existing or third-party reservations.
Must reserve first directly with Boquete Outdoor Adventures.
Special price may not be available during holiday weeks or peak season dates.
Reserve your space directly with us. BOOK NOW!
Packages with this Tour:
– 2-Day "Boquete Quick Combo" Package
– 2-Day "Coffee, Canyon, and Cloud Forest" Package
– 2-Day "Surf and Turf" Package
– 3-Day "Best of Boquete" Package
– 5-Day "Totally Chiriqui" Package
Time:
Morning Tour: 8:30am – 12:30pm
Afternoon Tour: 1:30pm – 5:00pm RECOMMEND IN SUMMER TIME SEASON
WHEN BOOKING PLEASE LET US KNOW THE SCHEDULE TO VERIFY AVALABILITY 
Tours Monday-Friday recommended
Location:
Gualaca and Caldera Towns, Chiriqui Province, Panama. How to get to Boquete.
Weather:
The tour goes rain or shine. The location is further south of Boquete, in a generally sunnier and warmer area with less rain year-round. During peak rainy season months (Sept-Oct) there may be afternoon rain, but you are still able to swim in the river and canyon, and enjoy the trip. Only during flash floods and extreme weather events will we cancel this tour.
Meeting Place:
At the BOA Office in Plaza Los Establos on Main Street in Boquete. How to get to our office in Boquete.
Trip Notes:
Los Cangilones Mini-Canyon is vehicle accessible, being available to all ages and fitness levels.
There are no facilities at these locations, as the trip is in it's most natural and local form.
Trip details may change due to severe weather or unforeseen events.
Approximate Tour Schedule (approximate times that can change daily):
1:30pm – Meet in office **Please be on time to not keep other guests waiting**
1:30pm – 2:15pm – Transport to Cangilones Mini-Canyon in Gualaca
2:15pm – 4:00pm – Guided Cangilones Mini-Canyon Trip
4:15pm – 5:00pm – Return transport to Boquete
What To Bring:
Camera
Hat
Shoes
 Sun Block
Sun Glasses
Swimming Clothes
Towel
Water Bottle
Contact Us for Your Canyon Tour Now!
GERMAN TRANSLATION
Cangilones Mini-Canyon
Preis 35 USD pro Person   Dauer: 4 Stunden
Genieße ein aktives Abenteuer und einen erfrischenden Flußlauf durch die seltenen Felsformationen des Cangilones Mini Canyons.
Angebot: 
Hin- und Rücktransport
Knowledgeable Bilingual Guide
Entrance Fees
Refreshments
Cangilones Mini Canyon
Rock Formations
Free Climbing
Deep Water Soloing
Sunshine Relaxation
Hin- und Rücktransport
sachkundigen zweisprachigen Touristenführer
Eintrittspreis
Erfrischungsgetränke
Cangilones Höhepunkte:
Cangilones Mini Canyon
Felsformationen
freies Klettern
Entspannung an der Sonne
Cangilones Mini Canyon Trip Beschreibung:
Das ist der perfekte Nachmittag  für diejenigen, die eine Morgenwanderung, eine Kaffee Tour oder eine andere Aktivität unternommen haben.
Platziert in der Umgebung von Gualaca haben diese Felsenformationen Wind und Wetter überlebt. Ein durchlaufender Fluss erlaubt es ca 4 Meter in das Innere des Canyons zu springen.
Viele Badegäste genießen es in dem aquamarinen Wasser zu schwimmen oder die Canyon Wände rauf zu klettern, sowie sich Sonnen badend auf der warmen Felsoberfläche zu entspannen.
Der Canyon existiert dort in Gualaca seit mehreren tausend Jahren, als die und wurde während der Formung des Isthmus aus dem Meer geschoben, geformt.
Notiz: Dieser Trip beinhaltet nicht den Besuch zu den heißen Thermalquellen in Caldera. Nach dem Feedback von Kunden und eigenen Besuchen dort, können wir den Besuch dorthin nicht empfehlen.
Preis:
—Spezial Online Preis:  USD 35.00 pro Person (für begrenzte Zeit).—
Regulärer Preis: USD 55.00 pro Person
Reservieren Sie eine Unterkunft dazu und erhalten Sie einen größeren Rabatt in Ihrer Panama Reise! Erkundigen Sie sich nach unseren Unterkunfts- und Tour Paketen! Sehen Sie hier einige Beispiele: hier
Andernfalls können Sie das Buena Vista Boquete mit booking.com buchen
Internetangebote werden immer geändert.
Rabattpreise sind nicht erhältlich für bestehende Buchungen oder über Dritte.
Die Reservierungen werden ausschließlich über Boquete Outdoor Adventures gebucht.
Spezialpreise sind nicht erhältlich in der Ferienzeit oder in der Hochsaison.
Reservieren Sie Ihren Platz direkt mit uns. Jetzt buchen.
Tourpakete:
2 Tages Paket "Boquete Kombination"
2 Tages Paket "Kaffee, Canyon und Nebelwald"
2 Tages Paket  "Surf und Turf"
3 Tages Paket "Das Beste von Boquete"
5 Tages Paket "Ganz Chiriqui"
Zeiten:
Morgen Tour: 8:30 – 12:30 Uhr
Nachmittags Tour: 1:30 – 5:00 Uhr
Orte:
Gualaca und Caldera, Provinz Chiriqui, Panama.
Wetter:
Die Touren finden bei Regen und Sonnenschein statt. Der Ort ist im Süden und außerhalb von Boquete in einer generell sonnigeren und wärmeren Gegend mit weniger Regen über das Jahr verteilt. Während den Spitzen der Regenzeit in den Monaten September und Oktober, kann es nachmittags regnen aber es ist trotzdem möglich im Fluss und Canyon zu baden und den Trip zu genießen. Nur bei Sturzfluten und extremen Wetterbedingungen werden wir den Trip stornieren.
Treffpunkt:
Im BOA Büro am Plaza Los Establos an der Hauptstraße von Boquete.
Wie kommt man zu unserem Büro in Boquete.
Unterkunft Möglichkeiten:
Es gibt verschiedene Hotel Möglichkeiten in Boquete, die Ihrer speziellen Preisvorstellung entsprechen. Wir bieten spezielle Partnertarife mit dem Hotel Buena Vista Boquete und können für sie ein Zimmer Reservierung machen.
Sehen Sie hier einige unserer Pakete: hier
Für die besten Tarife, buchen Sie das Buena Vista Boquete direkt über uns oder das Hotel oder in booking.com.
Tour Anmerkung:
Der Cangilones Mini Canyon ist mit dem Auto erreichbar, für alle Altersgruppen und Fitnesslevels geeignet.
Es gibt dort keine Einrichtungen, da der Ort naturbelassen ist.
Die Details zum Ausflug können bei unvorhergesehenen Wetterbedingungen geändert werden. 
Voraussichtlicher Tour Plan ( voraussichtliche Zeiten können sich täglich ändern)
1:30 pm Treffpunkt im Büro  –Bitte seien Sie pünktlich um anderen Kunden nicht warten zu lassen)
1:30pm – 2:15pm  Abfahrt und Transport zum Cangilones Mini Canyon in Gualaca
2:15pm – 4:00pm  geführter Ausflug im Cangilones Mini Canyon
4:15pm – 5:00pm  Rückfahrt nach Boquete
Was müssen Sie mitbringen?
Kamera
Sonnenhut
Umweltfreundlicher Sonnenschutz
Sonnenbrille
Badekleidung
Handtuch
Trinkwasser
Kontaktieren Sie uns jetzt für Ihre Canyon Tour!
Cangilones
Sunshine Fun
Mini-Canyon
Gorgeous Scenery
Mini Canyon
Cangilones
Cangilones
Cangilones
Canyon Jumping
Rock Formations
Beautiful Water
1..2..3.. Jump!
Top
Featured Multi-Day Packages
More Days in Panama?
Panama Package Tours and Specials
Interesting and Exciting! – Best that Boquete has to offer – Whitewater Rafting, Coffee Tour of a gorgeous Fair Trade plantation, and Hiking in the cloud forest of…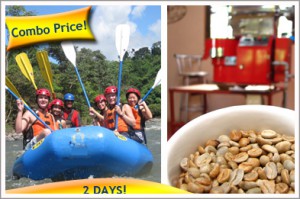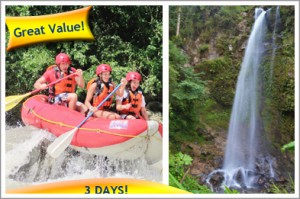 3 Days and 4 Adventures! – Whitewater Rafting, Island Trip, Waterfall and Wildlife Hiking, and a Coffee Tour in the best…
Extraordinary Adventures! – Panama Mountain and Island Tour – Whitewater Rafting, Coffee, Hiking, Zip Lining, Horseback Riding, and an Island Trip with Snorkeling with…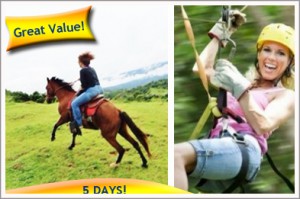 Panama Panoramic! – Experience everything you can do in Panama with this jam-packed itinerary with all the details taken care of! Highlights include the Panama Canal, Whitewater Rafting, an Overnight Island Trip to see monkeys and…
"]Contact Us for Your Canyon Tour Now