Price: $65 per person      Duration: Full Day
Experience Adrenaline-Filled World-Class White Water Rafting in Boquete, Panama, in the Scenic Chiriqui Province.
What's Included:
Experienced Bilingual Guides
Equipment: Helmets, Life Jackets, *** Bring your Own Water Shoes **
Picnic Lunch and Drinks
Roundtrip Transport from Boquete or David or Bugaba
Free Photos ( optional )
Whitewater Rafting Highlights:
Action-Packed Outdoor Adventure
Gorgeous Jungle Scenery
Beginner to Experienced Levels
Combine this tour with other tours for amazing savings
Whitewater Rafting Trip Description:
It doesn't get better than the whitewater rafting in Boquete, Panama! With several world-class whitewater runs in Panama's Chiriqui province alone, there is no Central America paddling destination more extraordinary than Panama! Boquete tops the list as offering some of the best whitewater rafting trips in the world. The combination of the region's topography, abundant watersheds, and incredible biological diversity make Panama an extraordinary whitewater river rafting destination featuring breathtaking views of nature and wildlife.
The whitewater rafting routes that our experienced guides will select for your trip will depend on water levels from dam release for the trip day, your prior rafting experience, skill, and desire. Our jungle river rafting run provides amazing scenery, one of the best riverside lunches in Panama, as well as some celebratory beer and sodas at the end.
For rafters of all experience, we'd love to get your group out on the rivers of Panama with several classic Class II and III runs that offer only super-fun whitewater rafting! Based on rainfall, water levels, and season, we select from the Rio Chiriqui Viejo, Rio Fonseca, Rio Gariche, Rio Chiriqui, as well as many others. See a list of our rivers here.

If you are young or young-at-heart, and are looking for an adrenaline-filled glimpse of what makes Panama's whitewater famous around the globe, then a Boquete Outdoor Adventures whitewater rafting trip is a must-do for you!
Price:
**Special Price: $65 per person (reduced for a limited time).**
Internet Special prices are subject to change at any time.
Discount price is not available on existing or third-party reservations.
Must reserve first directly with Boquete Outdoor Adventures.
Special price may not be available during holiday weeks or peak season dates.
Holiday Rate is $75 per person.
Reserve your space directly with us. BOOK NOW!  or WHATS APP – http://wa.me/+50766301453
Time:
Tour: 9:00am – 5:00pm FULL DAY (HALF DAY is not an option) 
David FEDERAL MALL  ( #6 )  Pick up at 10:15am
Monday-Saturday Some Sundays can be an option
Approximate Tour Schedule (approximate times that can change daily):
9:15am – 9:30am – Meet in office **Please be on time to not keep other guests waiting**
9:30am – Drive to the River
(pickup in David available around 10:15am in Federall Mall or Bugaba 10:30am)
11:45am – 12:00pm – Get on life jackets, helmets, and paddles. Safety orientation and demo.
12:00pm – 2:45pm – PADDLE HARD through beautiful jungle scenery! Includes a riverside lunch.
3:00pm   – Return drive to Boquete (drop off in David available around 5:00pm)
4:30pm – 5:00pm- Back in Boquete
Note: If you land in David Airport in the morning we are able to arrange the rafting on the same day, because we can pick you up at Federall Mall at 10:15 am. You will need to grab a taxi and tell them to drop you off at Federal Mall  we stop by at 10:15am By the Car Port  #6      Please be on time, also please let us know about your luggage
our whats app is  wa.me/+50766334105 , wa.me/+50766301453  to keep in touch when you land.
After the trip we return back to our Boquete office or the location where we picked you up.
Lunch and Drinks:
For our lunch, we can accommodate most diet modifications as everything is on the side, and you can assemble as you wish. Included: seasonal fruits (apples, oranges,) Empanada : chicken, Beef or Veggie , Cookies, chips, and drinks (fresh water, iced tea, fruit juice). (Items are subject to change based on seasonal availability). You can bring your own snacks in the vehicle, but we ask that you do not bring your own items on the rafts due to very limited space. If you have a dietary need or due to Religion and want to bring extra food we can pack it on the guides dry bag.
Location:
Chiriqui Province, Panama
Rivers include: Chiriqui Viejo River,
Weather:
The rivers are located at a lower elevation and weather has little to no impact on this trip. Sunny year round. Trip will not be cancelled if it is raining in Boquete, as that has no relation to where the rivers are located. The best trip during rainy season in Boquete is to go on a sunny whitewater rafting trip. The Mountain weather does not affect the river weather it could be raining in Boquete but not at the river.
The river is controlled with 7 hidroelectrics that makes the river safe for kids.
Meeting Place:
At the BOA Office in Plaza Los Establos on Main Street in Boquete. How to get to our office in Boquete.
Due to the nature of this trip, we ask all clients to meet in our office at the exact time (or before) on your schedule. We do not offer hotel pickup service as you might spend up to an hour driving around Boquete waiting for clients at various hotels. It is best to meet in our office in the center of town. Please be on time to not keep others waiting. If you have a larger group and prefer hotel pickup, we can offer it based on availability for an additional fee.
David pickup and dropoff is available for free. We will provide you with a meeting location that you can get to with a quick taxi ride from your hotel.
Trip Notes:
Minimum age is 4 years. Children love this trip!
Participants should be in good physical condition for moderate paddling of up to 3-4 hours.
Trip details may change due to severe weather or unforeseen events.
Trip specifics, including river, location, and trip duration may change due to high water, low water, road closures, access issues, dam releases, and any other unforeseen event.
Sun Protection
Panama is located between 8 and 9 degrees from the equator. The sun here is strong, we guarantee it is much stronger than you are used to at home! Up to 14,000 tons of sunscreen makes its way to our oceans, bleaching coral and damaging reefs and wildlife (imagine what those chemicals do to your body!). In fact, Hawaii has passed legislation to ban most types of sunscreen that includes chemicals such as oxybenzone and octinoxate. If you use sun screen, please use eco-friendly and approved products. For the best sun protection on the river, we recommend a quick-dry long-sleeved shirts and long pants, or leggings/workout tights to protect tops of the knees and upper thighs, and shoulders. It is sunny on the river 365 days a year. Don't say we didn't warn you!
What To Bring:
Clothes to get wet 

Change of dry clothes
Original Passport or Cedula
Water shoes 
No Flip Flops
Sun Block
Towel
Water Bottle
Bring your own Water Shoes / no Flip Flops 
Contact Us for Your Whitewater Rafting Tour Now!
Whitewater Rafting Trips Include:
Equipment
All of our whitewater rafting equipment is imported from the foremost rafting outfitters of the United States. We provide top of the line Aire and NRS self-bailing rafts that are built specifically to withstand the rigors of descending rivers and repeated brushings with Mother Nature.  We also provide US Coast Guard approved type III-V life-jackets and helmets that must be worn at all times within the rafts. Thorough and complete first aid kits are provided on each trip as well as other relevant river safety gear.  Our rafts require full interaction with all passengers paddling at the guide's order of "forward," "stop," "back," and other commands.  Be ready, paddling is a great workout and provides an incredible feeling of accomplishment and teamwork!
All of our whitewater rafting river guides are local Panamanians, and have been with us for many years. They know the rivers of the Chiriqui Province better than anyone else and are trained as Wilderness First Responders. Their outgoing personalities and love of what they do provide one heck of a great river ride!  We are extremely proud of the professionalism and courtesy of our guides and we scout guides based on river expertise and personality. We believe in providing an exciting journey that is also safe and family-friendly. In addition, our guides are proud and eager to teach and point out the various birds and animals you will likely encounter on the river, including monkeys, birds, and iguanas. Don't just go with anyone, trust our reputable company with the highest trained rafting guides.

Safety Orientation
Our rafting guides will provide you with detailed instructions before we enter the water, especially important for first-timers. This insures that everyone feels safe and knows what they are doing during the excursion. Everyone is equipped with a life jacket, paddle, helmet.  Please do not bring anything that can get damaged if wet.
On every trip, we have at least 2 guides out on the river, to insure the safest conditions. Our trips are fun and family-friendly, and we frequently take adventurous 5-year-olds up to active 85-year-olds!
Riverside Lunch
A healthy lunch is provided on all river trips. The lunch includes: seasonal fruit (oranges, apples, pineapple), chips, cookies,  Empanadas ( Veggie, Chicken, Beef) . Drinks include fruit juices, iced tea, and fresh water. For those limited to certain diets due to religious beliefs or vegetarian preferences, we include everything "on the side" so you can pick and choose to your own preference. If you decided to bring your own food due to religion or dietary needs please let us know so we can pack it on a dry bag.  We also celebrate an excellent paddling day with beers and sodas at the end of the trip. Please…No coolers allowed.
Transportation
Transportation to and from the river is provided from our Boquete Outdoor Adventures Office in Plaza Los Establos, in Boquete. Driving time is based on the day's selected river.  See a list of our rivers for more details. Our driver stays with the vehicle all day, so you can securely store your bags (towels, dry clothes, passports, etc.) in the vehicle. Pickup and dropoff in David is also available.

About the Whitewater Class System


CLASS I:  Moving water with a few riffles and small waves. Few or no obstructions (ideal for beginners). Most rivers have some stretches of calm Class I, creating a pleasant break in between rapids.


CLASS II: Rapids with waves up to three feet high. Clean, unobstructed channels with some maneuvering required during this little rock and roll. Guide must be able to maintain course.

CLASS III: Irregular waves up to four feet high, scouting necessary, complex maneuvering, obstacles concealed. Experienced guide required to control and maneuver through narrow passages that allow for plenty of waves to wash into the raft. Fun and safe family-friendly level with an experienced guide.

CLASS IV: Long, difficult rapids with tight passages. Boat tipping and swamping are real possibilities. Precise manuevering is required that sends hearts racing with adrenaline.


CLASS V: Quick rescue proceedings must be in place. Precise and professional knowledge of the river course is a must. Extremely difficult, long, and very violent rapids with highly congested routes, which should be scouted from shore. The upper limit of what is possible in a commercial raft.

CLASS VI: The extreme "un-runnable" rivers or waterfalls that only the most expert may attempt by kayak. You may see these only in extreme kayak videos. Outfitter raft trips do not attempt Class VI.
Panama Whitewater Rivers:
Rio Chiriqui Viejo
Class II-III (most popular for trips year-round)
This Chiriqui Viejo River is located near the border of Costa Rica and is the most popular white water adventure location in Panama. The river is high volume, and has continuous rapids and is a fun and exciting river for the whole family. This is our most popular run that we select most trip dates, and is available for whitewater trips year-round. The scenery is comprised of beautiful jungle trees overhanging over the warm water, various waterfalls throughout, and many chances to see wildlife such as birds, monkeys, and iguanas. Driving time is 1.5 hours to the river put in.
Rio Fonseca
Class II-III  (limited trips – dependent on rainy season rainfall levels)
This stretch of the Fonseca starts  at a village of the Ngöbe Indians, the indigenous of Panama,  located in the Ngobe-Bugle Indian Territory of Soloy. This river is only available in select dates during the rainy season. It is a beautiful rivers left untouched by hydro-electric power construction and similar dam projects. This river is ideal for families and groups with excellent swimming holes in its crystal clear waters, as well as cultural interaction with the Ngobe-Bugle Indigenous people. The river starts small but picks up volume from numerous feeder streams and waterfalls throughout the run. The run is mostly wide-open with the absence of high canyon walls. The riverbanks are lined with the almost perfectly rounded stones in all shades of blue typical of Central America rivers. The gradient stays fairly constant throughout and at times the river widens significantly. Driving time is 2 hours to the river put in (traffic dependent).
Rio Gariche
Class II  (limited trips – dependent on rainy season rainfall levels)

If abundant vegetation, exotic birds, waterfalls and sightings of monkeys are your delight, then the Gariche River is the perfect river tour for you. Consisting of mostly Class II rapids, this river offers that quintessential combination of sheer tropical beauty and exciting whitewater for the whole family. Driving time is 1.5 hours to the river put in.
Rio Majagua
Class II  (limited trips – dependent on rainy season rainfall levels)

Located close to the city of David, this section is convenient for families looking for an introduction to the whitewater world.  Adults and children alike will take pleasure in this river's exciting whitewater as well as swimming through the many calm and tranquil pools found throughout this section. Driving time is 45 minutes to the river put in.
Contact Us for Your Whitewater Rafting Tour Now!
Beliebt: Wildwasser Rafting
Preis: USD 65.00 pro Person         Dauer: ganzer Tag
Erlebe Adrenalin gefülltes Weltklasse Wildwasser Rafting in Boquete, Panama, in der malerischen Provinz Chiriqui.
Angebot:
-erfahrener zweisprachiger Guide
– Ausrüstung: Helme, Rettungswesten, Wasserschuhe
– Vollständiges Mittagessen und Getränke
– Hin- und Rückfahrt Transport von Boquete oder David
Wildwasser Rafting Highlights:
-aktiongefülltes Outdoor Abenteuer

-großartige Dschungellandschaften

-Anfänger oder Fortgeschrittenen Levels

– Kombiniere diese Tour mit anderen Touren für super Rabatte.
Wildwasser Rafting Trip Beschreibung:
Es gibt nichts besseres als das Wildwasser Rafting in Boquete, Panama! Mit mehreren Weltklasse Wildwasser Läufen in Panama`s Provinz Chiriqui, gibt es in Mittelamerika kein anderes Raftingziel, das so außergewöhnlich ist wie Panama.
Boquete ist an der Spitze einige der besten Wildwasser Rafting Trips weltweit. Die Kombination von der Flusslandschaft der Region, üppiger Niederschläge und die unglaubliche biologische Artenvielfalt macht Panama zu einem einzigartigen Wildwasser Rafting Ziel, das atemberaubende Einblicke in Natur und die Tierwelt gibt.
Die Wildwasser Routen, die unsere erfahrenen Guides für ihren Trip aussuchen, sind abhängig von der Wassereinspeisung der Dämme am Tag des Trips, Ihrer vorhergehenden Rafting Erfahrung, Geschick und Wunsch.Unsere Dschungel Rafting Trip bietet eine fantastische Landschaft, eine der besten Mittagessen am Flussufer in Panama und einem Feierabendbier und Softgetränken zum Abschluss des Tages. 
Für Rafter mit jeder Art von Erfahrung, würden wir Sie gerne auf einen Klasse II oder Klasse III Flusslauf bringen, die größten Spaß bieten! Basierend auf Wasserfällen, Wasserhöhen und Saison, suchen wir aus zwischen dem Rio Chiriqui Viejo, Rio Fonseca, Rio Gariche und viele andere.  
Sehen Sie hier unsere Liste der Flüsse.
Wenn Sie jung und jung geblieben sind und auf der Suche nach einem Adrenalin gefüllten und einen Blick darauf werfen wollen was das Wildwasser Rafting in Panama weltweit berühmt macht, dann sollten Sie eine Boquete Outdoor Adventures  Wildwasser Rafting Trip machen!
Preis:
–Special Price USD 65.00 pro Person ( für begrenzte Zeit )
Zeit:

Tour: 9:30 Uhr – 5:30 Uhr ganztags ( nicht halbtags möglich)
Montag – Samstag und einige Sonntag sind zur Verfügung
Voraussichtlicher Tourplan ( die angegebenen Daten können sich täglich ändern)


9:30Uhr  – 10:00 Uhr Treffpunkt im Büro ( bitte seien Sie pünktlich um andere Kunden nicht warten zu lassen)
10:00 Uhr Abfahrt zum Fluss ( Zustieg in David zwischen 9:45 Uhr oder in Bugaba um 10:30 Uhr)
11:30 Uhr – 11:45 Uhr Ausrüstung anziehen Schwimmwesten, Wasserschuhe, Helme und Paddel, Sicherheitseinführung und Demonstration.
11:45 Uhr – 2:15 Uhr Paddle kraftvoll durch die wunderschöne Dschungellandschaft! Beinhaltet Mittagessen am Flussufer.
3:00 Uhr – 3:30 Uhr Rückfahrt nach Boquete ( Ausstieg in David ca. 3:45 Uhr)
5:00 Uhr – 5:30 Uhr Ankunft in Boquete
Mittagessen und Getränke:

Das Mittagessen im Buffet Angebot können wir Ihren Essensgewohnheiten anpassen und sich ihre Mahlzeit selbst zusammenstellen.
Beinhaltet: Obst der Saison ( Äpfel,Orangen), Empanadas (Hühnchen, Rind, Gemüse), Kekse, Chips und Getränke ( Wasser, Eistee, Saft) Das Angebot passt sich an die Verfügbarkeit an. Sie können eigene Verpflegung im Bus mitnehmen aber auf den Booten ist nur begrenzter Platz übrig eigene Dinge mitzunehmen.
Wenn Sie eine spezielle Diät oder Ernährung haben und aus religiösen Gründen eigene Lebensmittel mitnehmen möchten, kann der Guide diese trocken mit transportieren.
Ort:

Provinz Chiriqui, Panama.
Flüsse: Chiriqui Viejo Fluss, Fonseca Fluss, Gariche Fluss und andere.


Wetter:

Die Flüsse sind in niedrigeren Höhen und das Wetter hat keinen Einfluss auf die Tour. Es ist rund um das Jahr sonnig. Die Tour wird nicht abgesagt ,wenn es in Boquete regnet, da es keinen Einfluss auf das Wetter am Fluss hat. Der beste Trip während der Regenzeit in Boquete ist eine sonnige Wildwasser Rafting Tour zu machen. 
Treffpunkt:

Im BOA Büro am Plaza Los Establos an der Hauptstraße in Boquete.
How to get to our office in Boquete.
Abhängig von der Art der Tour bitten wir die Kunden pünktlich oder früher ins 
Büro zu kommen. Wir bieten keinen Hotel shuttle Service an um nicht zusätzlich Zeit beim Abholen der Kunden zu verlieren. Der beste Treffpunkt ist unser Büro im Stadtzentrum. Wenn Sie eine größere Gruppe sind, dann können wir eine Abholservice abhängig von der Verfügung des Fahrzeugs gegen Zusatzkosten anbieten.
Der Zustieg und Ausstieg in David ist kostenlos. Wir werden Ihnen einen von Ihrem Hotel aus nahen und mit dem Taxi schnell erreichbaren Treffpunkt anbieten. 
Tour Anmerkung:

Das Mindestalter beträgt 5 Jahre. Kinder lieben diese Tour!
Alle Teilnehmer sollten in guter körperlicher Verfassung sein für moderates Paddeln zwischen 3-4 Stunden.
Die Tour Details können sich abhängig von Wetterbedingungen oder unvorhergesehenen Ereignissen verändern.
Die Reisebedingungen, inklusive der Fluss, der Ort und die Dauer des Trips, hoher oder niedriger Wasserstand, Straßensperrungen, Zufahrt, Wassereinspeisung (Damm) und anderen unvorhersehbaren Umständen können sich ändern. 
Sonnenschutz:

Panama liegt zwischen acht und neun Grad vom Äquator entfernt.
Die Sonne hier ist stark, wir garantieren, dass sie sehr viel stärker ist als bei Ihnen zu Hause. Bis zu 14.000 Tonnen von Sonnencreme erreichen unsere Ozeane, bleichen Korallen und beschädigen Riffe und die Tierwelt. (Stellen Sie sich vor was diese Chemikalien in Ihrem Körper anrichten!) In der Tat hat Hawaii das Gesetz verabschiedet und die meisten Sonnencreme Arten, die Chemikalien wie Oxybenzone und Octinoxate verboten. Wenn Sie Sonnenschutz benutzen, bitte benutzen Sie umweltfreundliche und geprüfte Produkte. Als besten Sonnenschutz empfehlen wir ein schnell trocknendes Langarmshirts und lange Hosen oder Leggins und Trainingshosen um die Knie, Oberschenkel und Schultern zu schützen. Es ist 365 Tage sonnig am Fluss. Sagen Sie nicht, wir haben Sie nicht gewarnt!
Was Sie mitbringen sollten:
Kleidung zum nass werden – bezogen auf das ansteigende Level der Schädigung der Ozeane wegen Sonnencreme Toxinen empfehlen wir schnell trocknende Hosen und Shirts zum Sonnenschutz
trockene Wechselkleidung
Originaler Ausweis oder Cedula
umweltfreundlicher Sonnenschutz ( enthält weniger toxische Chemikalien)
Handtuch
Wasser
Wasserschuhe
Wildwasser Rafting Trips beinhalten:
Ausrüstung

Unsere ganze Rafting Ausstattung ist von den führenden Rafting Ausstattern in den USA importiert. Wir bieten die besten der line Aire und NRS self-bailing Floße, die der Härte der tiefergehenden Flüsse und dem wiederholten Abreiben mit Mutter Natur stand halten.
Außerdem bieten wir von der US Küstenwache geprüfte Typ III-V Rettungswesten und Helme an, die während der ganzen Zeit im Boot getragen werden müssen. Ein komplettes 1.Hilfe Set und weitere Fluss- Rettungs-Ausrüstung ist mit an Bord. Unsere Floße benötigen die volle Mitwirkung aller Passagiere, die der Anweisung des Guides "vorwärts", "rückwärts", "stop" und anderen Kommandos paddelnd, folgen.
Seien Sie bereit, paddeln ist ein super Training und benötigt eine unglaubliche Leistung und Teamarbeit.
Fluss Guides
Alle unserer Fluss Guides vor Ort sind Panamesen, die seit Jahren mit uns zusammenarbeiten.Sie kennen die Flüsse in Chiriqui besser als jeder andere und sind auf 1. Hilfe in der Wildnis trainiert.
Sie sind tolle Persönlichkeiten, lieben was sie tun und tun alles um Ihr Wildwasser Rafting Erlebnis einmalig sein zu lassen! Wir sind sehr stolz auf die Professionalität und Höflichkeit unserer Guides und wir wählen unsere Guides anhand ihrer Erfahrung im Fluss und Persönlichkeit aus. Für uns zählt, dass ein aufregender Trip  sicher und familienfreundlich sein muss. Außerdem sind unsere Guides stolz und eifrig über die vielfältigen Vögel und Tiere zu unterrichten, die sie entlang des Flusslaufes finden werden, inklusive Affen, Vögel und Leguane.
Gehen Sie nicht mit irgendjemandem, vertrauen Sie unserer angesehen Firma mit den höchst trainierten Rafting Guides.
Sicherheits Einführung
Unsere Rafting Guides werden sie detailliert über die Sicherheitsvorkehrungen aufklären bevor es in das Wasser geht, das ist vor allem wichtig für Erstteilnehmer. Das stellt sicher, dass sich jeder sicher fühlt und weiß was auf der Exkursion zu tun ist. Jeder ist mit einer Rettungsweste, Paddel, Helm und Wasserschuhen ausgerüstet. Bitte bringen Sie nichts mit, das kaputt geht, wenn es nass wird.
Auf jeder Tour haben wir mindestens 2 Guides auf dem Wasser um die Sicherheitsvorkehrungen sicher zu stellen.
Unsere Touren machen Spaß und sich familienfreundlich. Wir nehmen 5 – 85 jährige Abenteurer mit!
Mittagessen am Flussufer
In allen Flusstouren bieten wir ein bunt gemischtes Mittagessen an:
saisonales Gemüse (Tomaten, Gurken, Paprika, Salat), saisonale Früchte (Orangen, Äpfel, Ananas), Chips, Kekse, Scheibenfleisch, Vollkornbrot und Gewürze. Getränke inklusive Fruchtsäfte, Eistee und frisches Wasser.
Wenn Sie eine spezielle Diät oder Ernährung haben und aus religiösen Gründen eigene Lebensmittel mitnehmen möchten, kann der Guide diese trocken mit transportieren. Keine Kühlboxen erlaubt!
Transport

Der Hin- und Rücktransport  zum Fluss ist mit im Angebot des Boquete Outdoor Adventur Büros am Plaza Los Establos in Boquete. Die Abfahrtszeiten hängt vom ausgesuchten Fluss ab.
Sehen Sie hier die Liste unserer Flüsse für mehr Details. Unser Fahrer bleibt den ganzen Tag am Fahrzeug, so dass Sie persönliche Dinge sicher im Fahrzeug lassen können. ( Handtücher, trockene Kleidung, Ausweise, etc.)
Der Zu-und Ausstieg in David ist auch verfügbar. 
Das Wildwasser Klassensystem:

Klasse I: Normaler Wasserlauf mit einigen Riffeln und kleinen Wellen. Wenige bis keine Hindernisse (ideal für Beginner). Die meisten Flüsse haben einige ruhige Abschnitte der Klasse I, die für eine angenehme Pause zwischen den Stromschnellen sorgen. 
Klasse II: Stromschnellen mit Wellen bis zu 3 Fuß hoch, hindernisfreie Kanäle mit ein paar Manövern in diesem Rock and Roll. Der Guide muss fähig sein, den Kurs zu behalten. 
Klasse III: Unregelmäßige Wellen bis 4 Fuß hoch, Aufklärung notwendig, komplexe Manöver, verborgene Hindernisse. Der erfahrene Guide muss fähig sein das Floß durch enge Passagen zu kontrollieren und manövrieren, die das Floß mit einer Menge Wellen füllen können.  Ein spaßiges und sicheres familienfreundliches Level mit einem erfahrenen Guide.

Klasse IV: Lange, schwierige Stromschnellen mit engen Passagen. Das Umkippen und überschwemmen des Bootes ist sehr wahrscheinlich. Präzises manövrieren ist gewährleistet, das die Herzen mit Adrenalin füllt.
Klasse V: Schnelle Rettungsvorkehrungen müssen vor Ort sein. Präzise und professionelles Kennen des Flusskurses sind ein Muss. Extrem schwierig, lang, und sehr gewaltige Stromschnellen, die vom Unfer aus beobachtet werden müssen. Das ober Limit, das möglich ist in einem filmreifen Raft. 
Klasse VI: Die extremen "unbezwingbaren" Flüsse oder Wasserfälle, die nur von den besten Profis mit dem Kayak bewältigt werden können. Sie dürften das nur in extremen Kayak Videos sehen.
Rafting Ausstatter empfehlen nicht Klasse VI Touren. 
Kontaktieren Sie uns jetzt für Ihre Wildwasser-Rafting-Tour!
Top
Featured Multi-Day Packages
More Days in Panama?
Panama Package Tours and Specials
Interesting and Exciting! – Best that Boquete has to offer – Whitewater Rafting, Coffee Tour of a gorgeous Fair Trade plantation, and Hiking in the cloud forest of…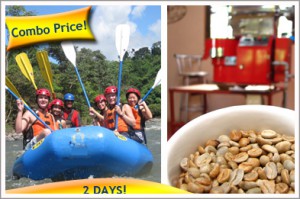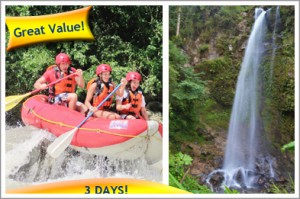 3 Days and 4 Adventures! – Whitewater Rafting, Island Trip, Waterfall and Wildlife Hiking, and a Coffee Tour in the best…
Extraordinary Adventures! – Panama Mountain and Island Tour – Whitewater Rafting, Coffee, Hiking, Zip Lining, Horseback Riding, and an Island Trip with Snorkeling with…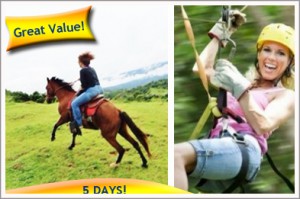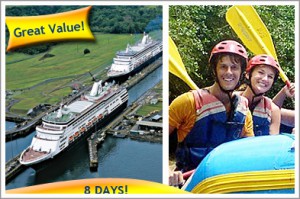 Panama Panoramic! – Experience everything you can do in Panama with this jam-packed itinerary with all the details taken care of! Highlights include the Panama Canal, Whitewater Rafting, an Overnight Island Trip to see monkeys and…