Price: $115 per person Duration: 2 Full Days
SAVE with this Internet Special!! – 2 Days of Boquete Experiences: Adrenaline-Filled Whitewater Rafting, Cloud Forest Trekking, and a Cultural Coffee Tour OR Cangilones Mini-Canyon.

What's Included:
All Tour Equipment and Transport
Full Lunch and Drinks (1 Day)
Experienced Guides
Park Entrance Fees
Refreshments
Highlights:
Hike: Cloud Forest and Birdwatching
Coffee Tasting Tour OR Cangilones Mini-Canyon
Whitewater Rafting
Expert Wildlife-Spotting Guide
Trip Description:
For anyone looking to get their first taste of Panama's wild west, a 2-day combo trip is a perfect choice. This action-packed vacation visits Panama's heart-pounding whitewater rapids, coffee-producing highlands, ancient cloud forests, and rare rock formations.
TOUR 1 – Whitewater Rafting on the Heart-Pounding Chiriqui Viejo River (Full Day)

This whitewater rafting adventure offers heart-pounding excitement that makes Chiriqui a world-famous whitewater rafting destination. With exciting river rafting runs ranging from Class II to Class III, this adrenaline-filled trip will be one of the highlights of of your Boquete vacation, as it is certainly one of our most popular day trips. We most often select the famous Chiriqui Viejo River year round, however with varying rainfall, other rivers may be selected for your day.

The routes that our experienced guides will select for your trip will depend on water levels for the trip day, your prior rafting experience, skill, and desire. Our jungle run provides gorgeous jungle scenery and one of the best riverside lunches in Panama as well as some celebratory drinks at the end.
Includes: Roundtrip Transportation, Equipment, Experienced Guides, Riverside Lunch and Drinks, FREE PHOTOS on Flickr (depending on guide ability and camera functionality of the day, PICTURES NOT GUARANTEED).
Note: If you land in David Airport in the morning we are able to arrange the rafting on the same day, because we can pick you up at Mall chiriqui at 10:30am. You will need to grab a taxi and tell them to drop you off at mall chiriqui, we stop by at 10:30am(bathroooms we will send you a photo where you will be meeting us) Please be on time,  also please let us know about your luggage, there are bathrooms where we pick you up please change into clothes you can get wet into. our whats app is +507 66301453 to keep in touch when you land. After the trip we return back to our Boquete office.
Click Here – More Whitewater Rafting Info
TOUR 2 – Morning: Hike in Cloud Forests (Half Day)

In the early morning mist, your hike through the cloud forest will be full of babbling brooks and old growth trees as we visit some of the most beautiful scenery in Central America. While trekking to some of Boquete's most exquisite microclimates, you have the perfect opportunity to learn about the interesting flora and fauna of the Panama forests. The narrated scenic drive and informative hike through the cloud forest is a highlight of your trip to Boquete. We usually select the Pipeline Trail for its ease for children up to fit grandparents. Afterwards, you will be returned to Boquete, so you can clean up and have free-time to explore the mountain town and enjoy lunch before your afternoon tour.

Includes: Roundtrip Transportation, Trail Entrance Fees, Knowledgeable English-Speaking Guides, and Refreshments.
Click Here – More Hiking Info
TOUR 3 (Option 1) – Afternoon: Coffee Tasting Tour (Half Day)

In the afternoon, you will visit an intimate coffee farm in the Boquete and Chiriqui Highlands, to learn about and enjoy some of the world's finest grown coffee in the world. This is an unforgettable opportunity to learn about the coffee process, from cherry to cup, in the Boquete highlands. There will be a short walk around the farm through the coffee tree fields and a look at the cherry drying beds, an in-depth explanation of the history of the coffee industry, and a coffee cupping and tasting. Some days include a full hand-roasting.

Includes: Roundtrip Transportation, Knowledgeable Guide, Coffee Cupping and Tasting. ENGLISH & SPANISH SPEAKING TOUR.
TOUR 3 (Option 2) – Afternoon: Cangilones Mini-Canyon (Half Day)

This is the perfect afternoon for those who just completed a morning cloud forest hike. Located in the district of Gualaca, these unique rock formations and river canyon have survived time and weather. A river crossing the canyon allows jumping from it (up to 12 feet or 4 meters). Many people enjoy swimming in the aquamarine waters, others enjoy climbing the canyon's walls, and even more just like to relax and sunbathe on the warm rock surface. For rock climbers, there are excellent opportunities for deep-water soloing on the canyon walls.

The Canyon has been in Gualaca for thousands of years, as a geological formation that was pushed up from the ocean during the formation of the Isthmus of Panama. It's interesting to see ancient sea fossils at this elevation.
Includes: Roundtrip Transportation, Knowledgeable Guide.
Pricing:
**Limited Time Only** Internet Special if you book directly with us!
Special price may not be available during holiday weeks or peak season dates.
Precios combos no aplican para dias Feriados ( Ejemplo: Nov 1-5, 28, Dic 20 – Enero 5, Semana Santa , Carnavales )
Precios Combo no Aplican para Agencias de Viajes solo clientes directos de Boquete Outdoor Adventures.
Rafting, Hike, Coffee: $115/person + tax = $123.05/p
Rafting, Hike, Mini-Canyon: $125/person + tax = $133.75/p
Rafting, Coffee, Mini-Canyon: $120/person + tax = $128.40/p
Internet Special prices are subject to change at any time.
Discount price is not available on existing or third-party reservations or Agencies .
Must reserve first directly with Boquete Outdoor Adventures to get the prices.
Time:
Whitewater Rafting: 9:15am-5pm

Cloud Forest Hike: 8:30am-12:30pm (or afternoon 1:30pm-5:15pm in dry season Dec-May)
Cangilones Mini Canyon: 1:30pm-5:00pm (or morning 8:30am-12:00pm)
Coffee Tour: 1:30pm-5:00pm (or morning 8:30 to 12pm
Location:
Boquete, Chiriqui Province, Panama. How to get to Boquete.
Meeting Place:
At the BOA Office in Plaza Los Establos on Main Street in Boquete. How to get to our office in Boquete.
Lodging Options:
There are various hotel options in Boquete to fit your specific budget and preferences. We offer special lodging partner pricing with Buena Vista Boquete and can easily make your reservations. See some of our packages here. For the best rates, book Buena Vista Boquete through us or with Buena Vista directly here.  Otherwise, you can book Buena Vista through booking.com.
Trip Notes:
Price subject to 7% tax.
Minimum age is 5 years.
3-person minimum.
Participants should be in good physical condition for moderate paddling of up to 3-4 hours.
Coffee Tour guide is ENGLISH-speaking, if you prefer Spanish, it must be arranged in advance.
Participants need minimum fitness level as the hiking trail is easy and well-maintained.
The trail is the Pipeline Trail, not the Waterfalls Trail.
Trip details may change due to severe weather or unforeseen events.
Tour days are flexible. (Example: Day 1 Rafting, Day 2 Hike/Coffee OR Day 2 Hike, Day 3 Cangilones).
Based on availability, please Contact Us about available dates and spaces.
May not be available on holidays and peak season dates.
Sun Protection
Panama is located between 8 and 9 degrees from the equator. The sun here is strong, we guarantee it is much stronger than you are used to at home! Up to 14,000 tons of sunscreen makes its way to our oceans, bleaching coral and damaging reefs and wildlife (imagine what those chemicals do to your body!). In fact, Hawaii has passed legislation to ban most types of sunscreen that includes chemicals such as oxybenzone and octinoxate. If you use sun screen, please use eco-friendly and approved products. For the best sun protection during rafting, we recommend a quick-dry long-sleeved shirts and long pants, or leggings/workout tights to protect tops of the knees and upper thighs, and shoulders. It is sunny on the river 365 days a year. Don't say we didn't warn you!
What To Bring For Your Trip:
Camera
Change of dry clothes

Clothes to get wet –

due to increasing levels of sunscreen toxins damaging oceans, we recommend to wear quick-dry pants and shirts for best sun protection
Hat
Passport or Cedula
Rain Gear or Rain Jacket
Sturdy Shoes
Eco-Friendly Sun Block
Towel
Water Bottle
Water Shoes
Contact Us for your Boquete Quick Combo
Top
Featured Multi-Day Packages
More Days in Panama?
Panama Package Tours and Specials
Interesting and Exciting! – Best that Boquete has to offer – Whitewater Rafting, Coffee Tour of a gorgeous Fair Trade plantation, and Hiking in the cloud forest of…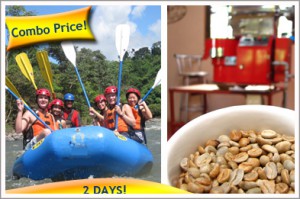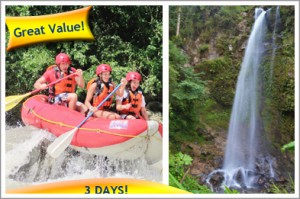 3 Days and 4 Adventures! – Whitewater Rafting, Island Trip, Waterfall and Wildlife Hiking, and a Coffee Tour in the best…
Extraordinary Adventures! – Panama Mountain and Island Tour – Whitewater Rafting, Coffee, Hiking, Zip Lining, Horseback Riding, and an Island Trip with Snorkeling with…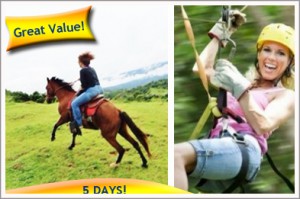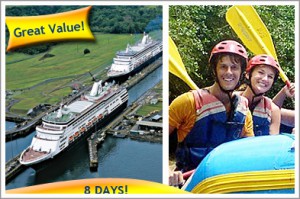 Panama Panoramic! – Experience everything you can do in Panama with this jam-packed itinerary with all the details taken care of! Highlights include the Panama Canal, Whitewater Rafting, an Overnight Island Trip to see monkeys and…