Price: $75 per person    Duration: Full Day
Get Up-Close and Personal with the Largest and Most Gentle Creatures of the Sea during our Whale Watching Tour.

**Seasonal: July 15 -October 15**
What's Included:
Humpback Whale Viewing
Roundtrip Transport
Experienced Bilingual Guides
Snorkeling
Full Lunch and Drinks
Private Boat Transport
Whale Watching Highlights:
Humpback Whales
Dolphins
Gulf of Chiriqui National Park
Snorkeling: Fish, Turtles, and Eels
Secluded White-Sand Beach
SPECIAL ADD-ON OPTION: Overnight Hotel Island Stay
Humpback Whale Watching Trip Description:
If you are a whale watching fan, the best place to be is in the warm waters of the Pacific Ocean. Panama is one of the few places in the world where both the Northern and Southern Hemisphere Humpback Whale families migrate 25,000 km (16,000 mi) to breed and birth their young. The Gulf of Chiriqui National Park, a 14,740 hectare marine park, is the perfect place to see the Humpback Whales up close during their migration-breeding-nursing routes.
This trip is during July 15 -October 15 (dates are approximate depending on arrival and departure of whales), as an added bonus to our year-round Island Trip. Panama waters are home to over 30 species of cetaceans, and you may see dolphins, manta rays, and sea turtles. We'll pass by uninhabited islands which serve as a refuge for howler monkeys, leatherback and hawksbill turtles, tiger herons, and exotic fish. Isla Bolaños does not have mammals due to no fresh water on the island.

We'll be snorkeling near one of the most beautiful islands and pass the afternoon lunching, exploring, swimming, relaxing in a hammock, and playing on the white sand beaches of Isla Gamez or Isla Bolaños.
SPECIAL ADD-ON OPTION: Overnight Hotel Island Stay.
Price:
**Special Online Price: $75 per person (reduced for a limited time).**
Regular Price: $90 per person.
Special price may not available during holiday weeks.
Reserve your space directly with us. BOOK NOW!
Packages with this Tour:
– 2-Day "Surf and Turf" Package
– 3-Day "Best of Boquete" Package
– 5-Day "Totally Chiriqui" Package
– 8-Day "Rumble in the Jungle" Package
Time:
Tour: 7:00am – 6:00pm
(July 15 – October 15)
Location:
Gulf of Chiriqui National Park, Chiriqui Province, Panama. How to get to Boquete.
Meeting Place:
At the BOA Office in Plaza Los Establos on Main Street in Boquete. How to get to our office in Boquete.
Trip Notes:
Trip details may change due to severe weather, sea conditions, unforeseen events.
Peak whale viewing months are during August and September.
Due to the nature of wildlife watching, Humpback Whales are very likely to be seen, but not guaranteed.
Dolphins and other animals are also not guaranteed.
The island is located in a National Park, with no structures allowed, so there are no facilities available.
Approximate Tour Schedule (approximate times that can change daily):
– 7:00am – Checkin at the Boquete Outdoor Adventures Office
– 7:00am – 9:00am – Transport to the Pacific Coast.
– 9:15am – 10:15am – Boat Ride from Boca Chica to Isla Bolanos, in the National Marine Park.
– Whale Watching time dependent on number of whales spotted during trip.
– 10:30am – 2:30pm – Island Time.
– Free time to snorkel, hike, explore, play, relax, swim.
– Lunch and drinks, towels, and hammocks included.
– 2:30pm – 3:00pm – Return Boat Ride to Boca Chica
– 3:15pm – 5:15pm – Transport from Boca Chica to Boquete.
What To Bring:
Camera
Clothes to get wet
Hat
Shoes to explore the island
Sun Block
Water Bottle
Contact Us for Your Whale Watching Tour Now!
Top
Featured Multi-Day Packages
More Days in Panama?
Panama Package Tours and Specials
Interesting and Exciting! – Best that Boquete has to offer – Whitewater Rafting, Coffee Tour of a gorgeous Fair Trade plantation, and Hiking in the cloud forest of…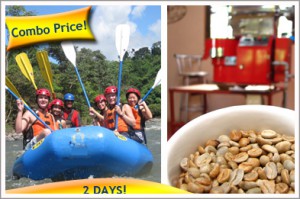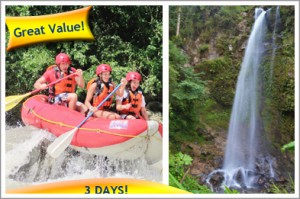 3 Days and 4 Adventures! – Whitewater Rafting, Island Trip, Waterfall and Wildlife Hiking, and a Coffee Tour in the best…
Extraordinary Adventures! – Panama Mountain and Island Tour – Whitewater Rafting, Coffee, Hiking, Zip Lining, Horseback Riding, and an Island Trip with Snorkeling with…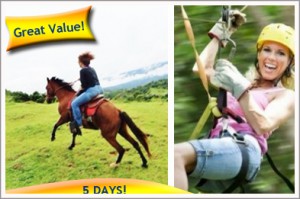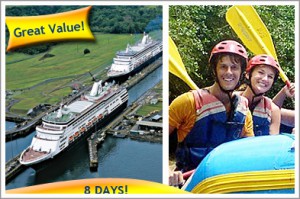 Panama Panoramic! – Experience everything you can do in Panama with this jam-packed itinerary with all the details taken care of! Highlights include the Panama Canal, Whitewater Rafting, an Overnight Island Trip to see monkeys and…