Price: $30 per person     Duration: 3 Hours
Visit a local Coffee Plantation with Hand Roasting and Tasting, while asking the knowledgeable experts all about the largest labor-force industry in the world.
What's Included:
Roundtrip Transport
English-Speaking Coffee Expert
Hand Roasting and Tasting
Coffee Tour Highlights:
Local Coffee Plantation
Panoramic Views of Volcan Baru
Small and Intimate Group Tour
Coffee Tour Trip Description:
Our small coffee farm is located in the highlands of Boquete, Panama – a coffee growing region sometimes referred to as the Napa Valley of coffee. Its rich volcanic soil and ideal climate have recently produced some of the highest rated coffees in the world. We have set out to grow the healthiest, most natural, and most flavorful coffee on the planet.
Each coffee tour is kept small and semi-private for an in-depth and hands-on experience. As you walk the fields you will learn about growing and processing of the coffee plants.
You will also visit the roasting house where you will sample different roasts to determine your preference. Some days include a full hands-on roasting experience, where you can make a bag of your custom flavor to purchase if you like! Take part in the process of bringing coffee from the cherry to the cup during an intimate in-depth and hands-on experience at a coffee estate along the beautiful slopes of Volcan Baru. ENGLISH SPEAKING TOUR.

Price:
**Special Online Price: $30 per person (reduced for a limited time).**
Regular Price: $40 per person.
Add on lodging for even greater discounts on your Panama vacation!  Be sure to inquire into our lodging and tour packages!  See a few examples here. For the best rates, book Buena Vista Boquete through us or with Buena Vista Boquete directly here.  Otherwise, you can book Buena Vista Boquete through booking.com.
Internet Special prices are subject to change at any time.
Discount price is not available on existing or third-party reservations.
Must reserve first directly with Boquete Outdoor Adventures.
Special price may not be available during holiday weeks or peak season dates.
Reserve your space directly with us. BOOK NOW!
Packages with this Tour:
– 2-Day "Boquete Quick Combo" Package
– 2-Day "Coffee, Canyon, and Cloud Forest" Package
– 2-Day "Surf and Turf" Package
– 3-Day "Best of Boquete" Package
– 5-Day "Totally Chiriqui" Package
– 8-Day "Rumble in the Jungle" Package
Time:
Morning Tour: 9:00am – 12:00pm
Afternoon Tour: 2:00pm – 5:00pm
Location:
Boquete, Chiriqui Province, Panama. How to get to Boquete.
Weather:
The tour is unaffected by weather. Most of the tour is in a covered cialtad.com area, so during the rainy season months, the coffee tour is a great option during the afternoons when other tours may not be available. Trip will not be cancelled due to weather.
Meeting Place:
At the BOA Office in Plaza Los Establos on Main Street in Boquete. How to get to our office in Boquete.
Lodging Options:
There are various hotel options in Boquete to fit your specific budget and preferences. We offer special lodging partner pricing with Buena Vista Boquete and can easily make your reservations. See some of our packages here. For the best rates, book Buena Vista Boquete through us or with Buena Vista Boquete directly here.  Otherwise, you can book Buena Vista Boquete through booking.com.
Trip Notes:
Coffee Tour guide is ENGLISH-speaking, if you prefer Spanish, it must be arranged in advance.
Combo discount tour (combining with other tours) may not have a guaranteed roasting. If you prefer to have a guaranteed roasting, please let us know in advance.
Trip details may change due to severe weather or unforeseen events.
Approximate Tour Schedule (approximate times that can change daily):
1:50pm – 2:00pm – Meet in office **Please be on time to not keep other guests waiting**
2:00pm – 2:15pm – Transport to Coffee Farm
2:15pm – 5:00pm – Guided walk on the farm, coffee tasting, possible hand roasting
5:00pm – 5:15pm – Return transport to Boquete
What To Bring:
Camera
Walking Shoes
Extra cash if you want to buy a bag of specialty roast coffee
Contact Us for Your Coffee Tour Now!
Hand Roaster
Drying Beds
Coffee Cherries
Experience Coffee
Gorgeous Views
Roasting
Beautiful Scenery
Explore the Farm
Coffee Roasting
From Cherry to Cup
Coffee Cherries
Green Beans
Top
Featured Multi-Day Packages
More Days in Panama?
Panama Package Tours and Specials
Interesting and Exciting! – Best that Boquete has to offer – Whitewater Rafting, Coffee Tour of a gorgeous Fair Trade plantation, and Hiking in the cloud forest of…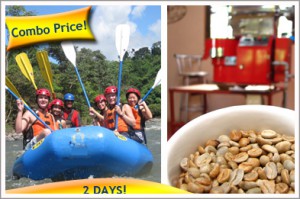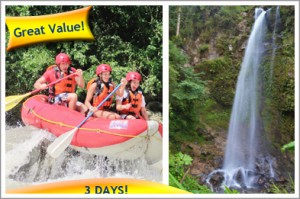 3 Days and 4 Adventures! – Whitewater Rafting, Island Trip, Waterfall and Wildlife Hiking, and a Coffee Tour in the best…
Extraordinary Adventures! – Panama Mountain and Island Tour – Whitewater Rafting, Coffee, Hiking, Zip Lining, Horseback Riding, and an Island Trip with Snorkeling with…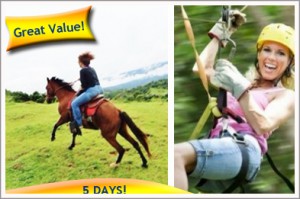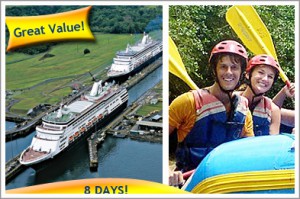 Panama Panoramic! – Experience everything you can do in Panama with this jam-packed itinerary with all the details taken care of! Highlights include the Panama Canal, Whitewater Rafting, an Overnight Island Trip to see monkeys and…