About Us // Team BOA
Where is the Boquete Outdoor Adventures Office?
The Boquete Outdoor Adventures Office is located in Plaza Los Establos, Central Avenue, Boquete, Panama. We are in the same Plaza as the Kotowa Coffee Shop, Boquete Tree Trek Canopy Zip Line, Banco General, and Habla Ya Spanish School. We are a block south from the Central Park where the bus makes its last stop.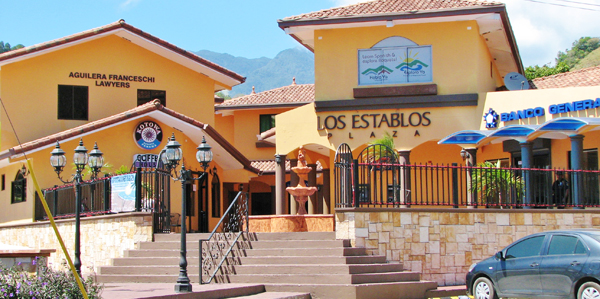 Team BOA
We are a tour operator based in Boquete, Panama. As you browse the internet to find the best travel deals, look no further, because we can guarantee the lowest price you will find. We are the actual tour provider and not a travel agency, so there are no middle-men adding costs in between your vacation and our local guides.
We have hand-picked our guides with your enjoyment, comfort, and safety in mind. Our team is a well-rounded group of both local Panamanians and folks we've imported from the States. By combining local talent and knowledge with the professional standards and qualifications that you've come to expect, we have an outstanding staff of experienced, knowledgeable, professional guides who value your trip experience as much as you do!
Our team lives and works IN Panama. We know the destinations, hotels, and tours like the back of our hand. With over a decade in business, we know our stuff!

Experienced Team
Your experience and happiness is our number one priority. Through a unique combination of local expertise and global service levels, we are able to provide our clients with something no one else can— the greatest memories.

Tailored Vacation
We believe that every one of our clients should be treated uniquely. Like a bespoke suit, we can tailor a vacation that will fit you perfectly. You probably don't go away on a vacation every week, so why not do it right?

Happiness Guaranteed
We are so confident in our service, we are willing to guarantee it. Our customer led philosophy means that we are never more than a phone call or email away and will do everything we can to resolve any issue to your complete satisfaction.
Get to know the people that make Boquete Outdoor Adventures the leading Panama tour operator and provider. All of our guides are locals from Panama, with the most experience and knowledge of the culture and area.




We are ranked as the "#1 Thing to Do in Boquete"! With over 730 TripAdvisor reviews and counting, we are one of the favorite companies to adventure with during your stay in Panama, just ask all of our happy customers who had amazing vacations!
"Amazing Activities"


"Our family of 4 recently spent a week in Boquete and Boca Chica. All activities, transportation and hotels were booked by BOA. We went zip lining, white water rafting, took a tour of a coffee plantation, went hiking in the forest and sea kayaked to several deserted islands to enjoy the most magnificent beaches.

We could not have been more pleased. Amy and Jim's personal touches and catering to our individual needs went over and beyond. The efficient itinerary was executed seamlessly and they made the vacation perfect. We highly recommend using this very professional company."   -Steve V., TripAdvisor Review

Take a look at the mention of Boquete Outdoor Adventures in the media, travel blogs, and newspapers, in addition to all of the outside booking travel agencies and tour companies who book directly with us. If you have written about us, our would like to be a partner, please Contact Us.
USA Today Travel

"Travel Tips in Panama"

Whitewater rafting is one of the more thrilling activities in Panama. Boquete Outdoor Adventures offers three rafting tours that range from beginner to advance. These eight-hour tours travel to the Chiriqui Province where there are more than 35 rafting rivers. See More …
Responsible tourism is an approach to the management of tourism, aimed at maximizing economic, social and environmental benefits and minimizing costs to destinations. Simply put, Responsible tourism is tourism 'that creates better places for people to live in, and better places to visit'. We practice "Leave No Trace" as well as promoting education and environmental awareness in Panama. Read more about our sustainable practices.
In addition to tours with us, we highly recommend many other companies all around Panama. If you are interested in surfing or diving in Bocas del Toro, visiting San Blas, exploring somewhere by ATV, or anything else, we suggest you take a look at our recommendations.
The goal of our staff is to make your trip an awesome experience. Whether paddling world-class whitewater, hiking the cloud forests, searching for the Resplendent Quetzal, or exploring the ruins of Old Panama, your needs and goals are our primary concern. We have a professional commitment to offer you an extraordinary, one-of-a-kind, hassle-free adventure vacation! We know that the success of our business depends on your satisfaction, and we aim to please!
Because adventure is a primary component of what we do every day, safety is of the utmost importance to our business. We invest in extensive trip preparation and guide training. Our guides maintain certifications in Wilderness First Aid and CPR. By staffing each of our trips with professionally trained, knowledgeable, and confident guides and instructors, we enable you to explore, play, and really push your limits. When warranted, we seek the expertise of other professional guides and experienced, licensed operators to ensure that your trip is a success.
The Birth of BOA
Panama has developed a reputation as a premier tourist destination and Boquete Outdoor Adventures (BOA) is one of the leaders in creating memorable vacations for those who visit. Whether enjoying the rugged beauty of Boquete and the Chiriqui Highlands, whitewater rafting, snorkeling or sport fishing in the crystal waters along the coast, Boquete Outdoor Adventures has established itself as leader in Panama adventure and travel.
For nearly a decade, BOA has created unforgettable Panama vacations for thousands of tourists. Founded in 2004, the company helped to support a surging demand for adventure tourism in this incredible country. With its professionally-trained and certified guides, BOA is a leader in providing vacation trips that are both fun and safe.
.Health nutrition is an momentous part of leading a wholesome lifestyle. How can medicaments help us? There isn't anything you can't buy online anymore. For example Temovate cream is a topical corticosteroid. This treatment works by depressing the formation of varied chemicals that cause itching. There are medicaments only for children. What about how much does levitra cost and generic levitra online? When you order remedies like Levitra you should discuss with your physician about levitra vardenafil. Many companies describe it as levitra generic. A overall sexual complaint among men is the erectile dysfunction. Several people take more drugs later in being and some have sexual side effects that result in impotence. Hormones fuel desire. This problem is best solved with professional help, usually through counseling with a qualified sex therapist. Certified physician can can offer some treatments that is better for you and your partner. Some medications are not suitable for men with certain conditions, and on occasion a preparation may only be used if extra care is taken. Certainly, you and your sex therapist can determine if Levitra or another physic is appropriate for you.
.