Price: $140 per person

SAVE with this Internet Special!! – 24 Hours of Boquete Challenging Trips: Adrenaline-Filled Whitewater Rafting and an Overnight Hike up Volcan Baru

What's Included:
Tour Equipment and Transport
Full Lunch and Drinks (Rafting)
Experienced Bilingual Guides
National Park Entrance Fees
Volcan Baru Hiking Guide
Highlights:
Hike Volcan Baru Sunrise Summit
Panoramic Views of the Pacific Ocean and Caribbean Sea
3,474 meters (11,398 feet)
Challenge Yourself to New Heights
Adrenaline Filled Whitewater Rafting
Scenic River and Jungle
"Boquete Challenge" Trip Description:
For anyone looking experience an adrenaline-filled sense of adventure and accomplishment, this 24-hour "Boquete Challenge" features a full day whitewater rafting on the rivers of Panama, and an overnight hiking up Volcan Baru for an amazing sunrise summit at 11,398 feet! This action-packed vacation visits Panama's heart-pounding whitewater rapids and tops the Volcan Baru National Park.

STEP 1 – Whitewater Rafting on the Heart-Pounding Chiriqui Viejo River
This adventure offers heart-pounding excitement that makes Chiriqui a world-famous whitewater rafting destination. With exciting river runs ranging from Class II to Class III, this adrenaline-filled trip will be one of the highlights of of your Boquete vacation, as it is certainly one of our most popular day trips. We most often select the famous Chiriqui Viejo River year round, however with varying rainfall, other rivers may be selected for your day.

The routes that our experienced guides will select for your trip will depend on water levels for the trip day, your prior rafting experience, skill, and desire. Our jungle run provides one of the best riverside lunches in Panama as well as some celebratory drinks at the end.
Includes: Roundtrip Transportation, Equipment, Experienced Guides, and Riverside Lunch and Drinks, FREE PHOTOS (depending on river conditions and camera functionality).
Click Here – More Whitewater Rafting Info
STEP 2 – Hiking up Volcan Baru to the Sunrise Summit 13,398 feet 
Due to Covid New Times are 5am to 5pm Hiking during the day
Volcan Baru, a dormant volcano just south of the Continental Divide, is one of the only places in the world where one can see both the Pacific Ocean and the Caribbean Sea at the same time with the naked eye. Dozens of people attempt the climb daily, hoping to make summit before the gorgeous sunrise shines above the clouds, to then light up the beautiful mountain town of Boquete.
Join us to make the steep and rugged climb by foot. You will make your way to the dormant volcano's summit, as you traverse through rolling green hills, lush jungle, and finally to rocky cliffs. From the summit, you will get the breath-taking panoramic view of both of Panama's coastlines, the Pacific and the Caribbean for a "once-in-lifetime" opportunity to witness a volcano sunrise from the highest point in Panama.
The hike is not for the faint-of-heart as it is an extremely challenging trail, often taking even the most experienced hikers 5 hours just to make the summit. Depending on your speed, you will wait at the top for the sunrise, amidst sometimes below freezing temperatures and blistering cold wind gusts. The gorgeous views from the top are worth it, and to say you've "been to the highest point in Panama", but keep in mind your knees still must endure 6 hours back down. We encourage only the most physically fit and determined to attempt this climb.
Includes: Hotel Pickup and Roundtrip Transportation past the Trailhead (cutting off a bit of the most difficult and boring trail sections), National Park Entrance Fes, Experienced Guide.
Click Here – More Volcan Baru Info
Pricing:
**Limited Time Only** Internet Special if you book directly with us!
Normal rate $150 / p person +tax = $160.50
Rafting+Volcano Hike Combo: $140/person + tax = $149.80/pp
Internet Special prices are subject to change at any time.
Discount price is not available on existing or third-party reservations or Agencies
Must reserve first directly with Boquete Outdoor Adventures depending on our Avalibility.
Special price may not be available during holiday weeks or peak season dates.
Time:
Rafting: Monday-Friday: 9:30am – 5pm (exact times may vary)
Volcan Baru Hike: New times  —> 5am – 5pm  <—  due to the Country Curfew
Location:
Boquete, Chiriqui Province, Panama. How to get to Boquete.
Meeting Place:
Rafting: At the BOA Office in Plaza Los Establos on Main Street in Boquete. How to get to our office in Boquete.
Volcan Baru Hike: Boquete Hotel Pickup or meet at the stairs of Plaza Los Establos
Trip Notes:
Price subject to 7% tax.
Minimum age is 5 years for Rafting, adult age for Volcan Baru hike.
Excellent Hiking Fitness Level required for Volcan Baru hike.
2-person minimum for Volcano Hike.
Participants should be in good physical condition for moderate paddling of up to 4 hours.
Tour days are flexible. (Example: Day 1 Rafting, Day 2 Hike).
Based on availability, please Contact Us about available dates and spaces.
Not available on holidays and peak season dates.
Sun Protection
Panama is located between 8 and 9 degrees from the equator. The sun here is strong, we guarantee it is much stronger than you are used to at home! Up to 14,000 tons of sunscreen makes its way to our oceans, bleaching coral and damaging reefs and wildlife (imagine what those chemicals do to your body!). In fact, Hawaii has passed legislation to ban most types of sunscreen that includes chemicals such as oxybenzone and octinoxate. If you use sun screen, please use eco-friendly and approved products. For the best sun protection on the river, we recommend a quick-dry long-sleeved shirts and long pants, or leggings/workout tights to protect tops of the knees and upper thighs, and shoulders. It is sunny on the river 365 days a year. Don't say we didn't warn you!
Volcano IMPORTANT TRIP INFO. PLEASE READ:
Trail Length: from the ranger station to the summit is 8 miles  (13km) one way. 16 miles (26km) round trip.
Trail Elevation: 7,498 feet (2,274 meters) in elevation in just 2 hours from Boquete 3,900 feet (1,200 meters) to the top of Volcan Baru 11,398 feet (3,474 meters). There is a chance of altitude sickness.
Required Fitness Level: You must be in excellent physical hiking fitness to attempt this climb. This is a strenuous uphill climb on a steep rocky road.
Summit Conditions: The summit is extremely cold, sometimes below freezing, please bring plenty of warm clothing (hat, gloves, scarf, warm socks, rain gear, multiple layers on top and bottom) and extra water (4 liter minimum per person).
If there is rain, cloudiness, or bad weather at the top to obstruct your view, no refunds can be given.
Greater chance of rain is during the rainy season (July-November).
If you would like to see the Resplendent Quetzal and other wildlife, we recommend alternate trails and our cloud forest hikes.
It is your choice to take this trip and we can not be held responsible if you are unaware of the above details.
Trip details may change due to severe weather or unforeseen events.

The price of this hike is due to the extreme nature of the hike, and the experience of the guide it requires.
What To Bring For Your Trip:
Change of dry clothes
Clothes to get wet – due to increasing levels of sunscreen toxins damaging oceans, we recommend to wear quick-dry pants and shirts for best sun protection
Packed lunch when you get to the Summit at Noon
sunblock
Gloves
Hat
Headlamp / Flashlight
Passport or Cedula
Rain Gear
Snacks, Food, and Energy Bars
Eco-Friendly Sun Block
Sturdy Hiking Shoes
Towel
Warm Clothing – EXTREMELY warm clothing!!!
Water Bottle
Water Shoes
Waterproof Camera
Contact Us for your Boquete Challenge Combo
Top
Featured Multi-Day Packages
More Days in Panama?
Panama Package Tours and Specials
Interesting and Exciting! – Best that Boquete has to offer – Whitewater Rafting, Coffee Tour of a gorgeous Fair Trade plantation, and Hiking in the cloud forest of…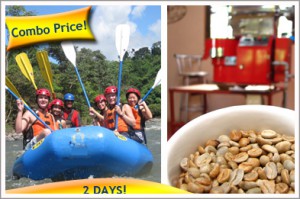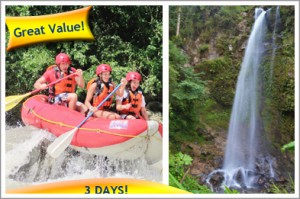 3 Days and 4 Adventures! – Whitewater Rafting, Island Trip, Waterfall and Wildlife Hiking, and a Coffee Tour in the best…
Extraordinary Adventures! – Panama Mountain and Island Tour – Whitewater Rafting, Coffee, Hiking, Zip Lining, Horseback Riding, and an Island Trip with Snorkeling with…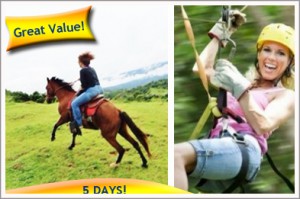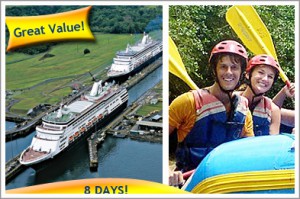 Panama Panoramic! – Experience everything you can do in Panama with this jam-packed itinerary with all the details taken care of! Highlights include the Panama Canal, Whitewater Rafting, an Overnight Island Trip to see monkeys and…