Price: $130 per person Duration: 6 Hours
PANAMA CITY TOUR – Wednesdays and Sundays Only – The jungle near Panama City, highlighting a Safari Boat tour through Lake Gatun, Monkey Island, and time to kayak, swim, or fish.
What's Included:
Roundtrip Transport
Hotel Pickup and Dropoff
Knowledgeable Bilingual Guide
Lake Gatun Boat Tour
Activities such as: Fishing, Lake Kayaking, and Swimming
Monkey Island
Lunch and Refreshments
Panama City and Canal Highlights:
See huge sea vessels in transit
View tropical flora and fauna
The Panama Canal
Monkey Island
Tropical lunch
Fishing, Lake Kayaking, and Swimming
Panama Jungle Safari Trip Description:
Your day of adventure will take you to the waters of the world's most famous manmade lake. Lake Gatun is situated in the heart of the Isthmus of Panama. It was constructed between 1906- 1914 to make the Panama Canal possible.
From the lake's shore you will board our fast motor launches for a voyage of discovery. We will navigate above ancient routes that crossed the isthmus long before the lakes creation.
Huge ocean going ships can be seen transiting across this water bridge that links the Caribbean Sea to the Pacific Ocean. See history in the making with the works to expand the canal.
We will glide past lush tropical forests to a scenic region of the lake and witness firsthand the splendor and excitement of the jungle. Exotic birds, monkeys, sloths, iguanas, and crocodiles are just a few of the animals that you can view in their native surroundings. The sights, sounds and scents that make up this tropical paradise will engulf you.
Our ultimate destination will be the only floating house on the lake. This two story structure has plenty of room for you to relax and enjoy the day.
A delicious native style lunch with refreshments will be served. Afterwards numerous activities are available at no additional costs. Explore on your own while kayaking, swimming, and fishing. Or if you prefer, just relax on-board and sip a cool drink while taking in the beauty of the area.
There is a cash bar and gift shop where you can purchase unique souvenirs.
Come experience why our guests consider a day spent with us, as one of the highlights of their visit to Panama.
IMPORTANT: This is a single day tour based in Panama City, Panama. You must be staying in a hotel in Panama City for this tour.
Price:
**Special Price: $130 per person (reduced for a limited time).**
Regular Price: $140 per person
Reserve your space directly with us. BOOK NOW!
Time:
Morning Tour: 8:30am – 4:30pm
Time on the Lake: 6 hours
**TOUR AVAILABLE WEDNESDAYS AND SUNDAYS ONLY**
Location:
Panama City, Panama, Monkey Island, Lake Gatun, and surrounding wildlife areas.
Meeting Place:
Hotel Pickup in Panama City.
Trip Notes:
Trip details may change due to severe weather or unforeseen events.
Tour is Wednesdays and Sundays only. Please ask for alternate dates.
IMPORTANT: This is a single day tour based in Panama City, Panama. You must be staying in a hotel in Panama City for this tour.
What To Bring:
Camera
Hat
Rain Jacket
Walking Shoes
Sun Block
Swim Suit
Water Bottle
Water Shoes
Tour Date Availability:
Please check out our TOUR SCHEDULE AND CALENDAR for trip dates.
Contact Us for Your Panama Jungle Safari Tour Now!
Top
Featured Multi-Day Packages
More Days in Panama?
Panama Package Tours and Specials
Interesting and Exciting! – Best that Boquete has to offer – Whitewater Rafting, Coffee Tour of a gorgeous Fair Trade plantation, and Hiking in the cloud forest of…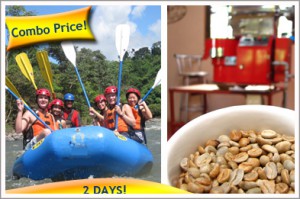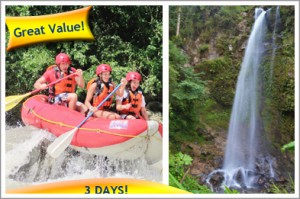 3 Days and 4 Adventures! – Whitewater Rafting, Island Trip, Waterfall and Wildlife Hiking, and a Coffee Tour in the best…
Extraordinary Adventures! – Panama Mountain and Island Tour – Whitewater Rafting, Coffee, Hiking, Zip Lining, Horseback Riding, and an Island Trip with Snorkeling with…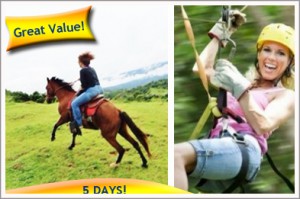 Panama Panoramic! – Experience everything you can do in Panama with this jam-packed itinerary with all the details taken care of! Highlights include the Panama Canal, Whitewater Rafting, an Overnight Island Trip to see monkeys and…