Price: $65 per person      Duration: Full Day
Experience Adrenaline-Filled World-Class White Water Rafting in Boquete, Panama, in the Scenic Chiriqui Province.
What's Included:
Experienced Bilingual Guides
Equipment: Helmets, Life Jackets, Water Shoes
Full Lunch and Drinks
Roundtrip Transport from Boquete or David
Whitewater Rafting Highlights:
Action-Packed Outdoor Adventure
Gorgeous Jungle Scenery
Beginner to Experienced Levels
Combine this tour with other tours for amazing savings
Whitewater Rafting Trip Description:
It doesn't get better than the whitewater rafting in Boquete, Panama! With several world-class whitewater runs in Panama's Chiriqui province alone, there is no Central America paddling destination more extraordinary than Panama! Boquete tops the list as offering some of the best whitewater rafting trips in the world. The combination of the region's topography, abundant watersheds, and incredible biological diversity make Panama an extraordinary whitewater river rafting destination featuring breathtaking views of nature and wildlife.
The whitewater rafting routes that our experienced guides will select for your trip will depend on water levels from dam release for the trip day, your prior rafting experience, skill, and desire. Our jungle river rafting run provides amazing scenery, one of the best riverside lunches in Panama, as well as some celebratory beer and sodas at the end.
For rafters of all experience, we'd love to get your group out on the rivers of Panama with several classic Class II and III runs that offer only super-fun whitewater rafting! Based on rainfall, water levels, and season, we select from the Rio Chiriqui Viejo, Rio Fonseca, Rio Gariche, Rio Chiriqui, as well as many others. See a list of our rivers here.

If you are young or young-at-heart, and are looking for an adrenaline-filled glimpse of what makes Panama's whitewater famous around the globe, then a Boquete Outdoor Adventures whitewater rafting trip is a must-do for you!
Price:
**Special Price: $65 per person (reduced for a limited time).**
Add on lodging for even greater discounts on your Panama vacation!  Be sure to inquire into our lodging and tour packages!  See a few examples here. For the best rates, book Buena Vista Boquete through us or with Buena Vista Boquete directly here.  Otherwise, you can book Buena Vista Boquete through booking.com.
Internet Special prices are subject to change at any time.
Discount price is not available on existing or third-party reservations.
Must reserve first directly with Boquete Outdoor Adventures.
Special price may not be available during holiday weeks or peak season dates.
Holiday Rate is $75 per person.
Reserve your space directly with us. BOOK NOW!
Time:
Tour: 9:30am – 5:30pm FULL DAY (HALF DAY is not an option) 
Monday-Saturday Some Sundays can be an option
Approximate Tour Schedule (approximate times that can change daily):
9:30am – 10:00am – Meet in office **Please be on time to not keep other guests waiting**            10:00am – Drive to River (pickup in David available around 9:45am or Bugaba 10:30am)
11:30am – 11:45am – Get on life jackets, water shoes, helmets, and paddles. Safety orientation and demo.
11:45am – 2:15pm – PADDLE HARD through beautiful jungle scenery! Includes a riverside lunch.
3:00pm – 3:30pm – Return drive to Boquete (drop off in David available around 3:45pm)              5:00pm – 5:30pm- Back in Boquete
Lunch and Drinks:
For our lunch, we can accommodate most diet modifications as everything is on the side, buffet style, and you can assemble as you wish. Included: seasonal fruits (apples, oranges,) Empanada : chicken, Beef or Veggie , Cookies, chips, and drinks (fresh water, iced tea, fruit juice). (Items are subject to change based on seasonal availability). You can bring your own snacks in the vehicle, but we ask that you do not bring your own items on the rafts due to very limited space. If you have a dietary need or due to Religion and want to bring extra food we can pack it on the guides dry bag.
Location:
Chiriqui Province, Panama
Rivers include: Chiriqui Viejo River, Fonseca River, Gariche River, Chiriqui River, and others.
Weather:
The rivers are located at a lower elevation and weather has little to no impact on this trip. Sunny year round. Trip will not be cancelled if it is raining in Boquete, as that has no relation to where the rivers are located. The best trip during rainy season in Boquete is to go on a sunny whitewater rafting trip.
Meeting Place:
At the BOA Office in Plaza Los Establos on Main Street in Boquete. How to get to our office in Boquete.
Due to the nature of this trip, we ask all clients to meet in our office at the exact time (or before) on your schedule. We do not offer hotel pickup service as you might spend up to an hour driving around Boquete waiting for clients at various hotels. It is best to meet in our office in the center of town. Please be on time to not keep others waiting. If you have a larger group and prefer hotel pickup, we can offer it based on availability for an additional fee.
David pickup and dropoff is available for free. We will provide you with a meeting location that you can get to with a quick taxi ride from your hotel.
Trip Notes:
Minimum age is 5 years. Children love this trip!
Participants should be in good physical condition for moderate paddling of up to 3-4 hours.
Trip details may change due to severe weather or unforeseen events.
Trip specifics, including river, location, and trip duration may change due to high water, low water, road closures, access issues, dam releases, and any other unforeseen event.
Sun Protection
Panama is located between 8 and 9 degrees from the equator. The sun here is strong, we guarantee it is much stronger than you are used to at home! Up to 14,000 tons of sunscreen makes its way to our oceans, bleaching coral and damaging reefs and wildlife (imagine what those chemicals do to your body!). In fact, Hawaii has passed legislation to ban most types of sunscreen that includes chemicals such as oxybenzone and octinoxate. If you use sun screen, please use eco-friendly and approved products. For the best sun protection on the river, we recommend a quick-dry long-sleeved shirts and long pants, or leggings/workout tights to protect tops of the knees and upper thighs, and shoulders. It is sunny on the river 365 days a year. Don't say we didn't warn you!
What To Bring:
Clothes to get wet

– due to increasing levels of sunscreen toxins damaging oceans, we recommend to wear

quick-dry pants and shirts for best sun protection

Change of dry clothes
Original Passport or Cedula
Eco-friendly Sun Block (minus toxic chemicals)
Towel
Water Bottle
Water Shoes
Contact Us for Your Whitewater Rafting Tour Now!
Whitewater Rafting Trips Include:
Equipment
All of our whitewater rafting equipment is imported from the foremost rafting outfitters of the United States. We provide top of the line Aire and NRS self-bailing rafts that are built specifically to withstand the rigors of descending rivers and repeated brushings with Mother Nature.  We also provide US Coast Guard approved type III-V life-jackets and helmets that must be worn at all times within the rafts. Thorough and complete first aid kits are provided on each trip as well as other relevant river safety gear.  Our rafts require full interaction with all passengers paddling at the guide's order of "forward," "stop," "back," and other commands.  Be ready, paddling is a great workout and provides an incredible feeling of accomplishment and teamwork!
All of our whitewater rafting river guides are local Panamanians, and have been with us for many years. They know the rivers of the Chiriqui Province better than anyone else and are trained as Wilderness First Responders. Their outgoing personalities and love of what they do provide one heck of a great river ride!  We are extremely proud of the professionalism and courtesy of our guides and we scout guides based on river expertise and personality. We believe in providing an exciting journey that is also safe and family-friendly. In addition, our guides are proud and eager to teach and point out the various birds and animals you will likely encounter on the river, including monkeys, birds, and iguanas. Don't just go with anyone, trust our reputable company with the highest trained rafting guides.

Safety Orientation
Our rafting guides will provide you with detailed instructions before we enter the water, especially important for first-timers. This insures that everyone feels safe and knows what they are doing during the excursion. Everyone is equipped with a life jacket, paddle, helmet, and water shoes. Please do not bring anything that can get damaged if wet.
On every trip, we have at least 2 guides out on the river, to insure the safest conditions. Our trips are fun and family-friendly, and we frequently take adventurous 5-year-olds up to active 85-year-olds!
Riverside Lunch
A hefty smorgasbord lunch is provided on all river trips. The lunch includes: seasonal vegetables (tomatoes, cucumbers, bell peppers, lettuce), seasonal fruit (oranges, apples, pineapple), chips, cookies, sliced meat, whole grain bread, and condiments. Drinks include fruit juices, iced tea, and fresh water. For those limited to certain diets due to religious beliefs or vegetarian preferences, we include everything "on the side" so you can pick and choose to your own preference. We also celebrate an excellent paddling day with beers and sodas at the end of the trip. Please…No coolers allowed.
Transportation
Transportation to and from the river is provided from our Boquete Outdoor Adventures Office in Plaza Los Establos, in Boquete. Driving time is based on the day's selected river.  See a list of our rivers for more details. Our driver stays with the vehicle all day, so you can securely store your bags (towels, dry clothes, passports, etc.) in the vehicle. Pickup and dropoff in David is also available.

About the Whitewater Class System


CLASS I:  Moving water with a few riffles and small waves. Few or no obstructions (ideal for beginners). Most rivers have some stretches of calm Class I, creating a pleasant break in between rapids.


CLASS II: Rapids with waves up to three feet high. Clean, unobstructed channels with some maneuvering required during this little rock and roll. Guide must be able to maintain course.

CLASS III: Irregular waves up to four feet high, scouting necessary, complex maneuvering, obstacles concealed. Experienced guide required to control and maneuver through narrow passages that allow for plenty of waves to wash into the raft. Fun and safe family-friendly level with an experienced guide.

CLASS IV: Long, difficult rapids with tight passages. Boat tipping and swamping are real possibilities. Precise manuevering is required that sends hearts racing with adrenaline.


CLASS V: Quick rescue proceedings must be in place. Precise and professional knowledge of the river course is a must. Extremely difficult, long, and very violent rapids with highly congested routes, which should be scouted from shore. The upper limit of what is possible in a commercial raft.

CLASS VI: The extreme "un-runnable" rivers or waterfalls that only the most expert may attempt by kayak. You may see these only in extreme kayak videos. Outfitter raft trips do not attempt Class VI.
Panama Whitewater Rivers:
Rio Chiriqui Viejo
Class II-III (most popular for trips year-round)
This Chiriqui Viejo River is located near the border of Costa Rica and is the most popular white water adventure location in Panama. The river is high volume, and has continuous rapids and is a fun and exciting river for the whole family. This is our most popular run that we select most trip dates, and is available for whitewater trips year-round. The scenery is comprised of beautiful jungle trees overhanging over the warm water, various waterfalls throughout, and many chances to see wildlife such as birds, monkeys, and iguanas. Driving time is 1.5 hours to the river put in.
Rio Fonseca
Class II-III  (limited trips – dependent on rainy season rainfall levels)
This stretch of the Fonseca starts  at a village of the Ngöbe Indians, the indigenous of Panama,  located in the Ngobe-Bugle Indian Territory of Soloy. This river is only available in select dates during the rainy season. It is a beautiful rivers left untouched by hydro-electric power construction and similar dam projects. This river is ideal for families and groups with excellent swimming holes in its crystal clear waters, as well as cultural interaction with the Ngobe-Bugle Indigenous people. The river starts small but picks up volume from numerous feeder streams and waterfalls throughout the run. The run is mostly wide-open with the absence of high canyon walls. The riverbanks are lined with the almost perfectly rounded stones in all shades of blue typical of Central America rivers. The gradient stays fairly constant throughout and at times the river widens significantly. Driving time is 2 hours to the river put in (traffic dependent).
Rio Gariche
Class II  (limited trips – dependent on rainy season rainfall levels)

If abundant vegetation, exotic birds, waterfalls and sightings of monkeys are your delight, then the Gariche River is the perfect river tour for you. Consisting of mostly Class II rapids, this river offers that quintessential combination of sheer tropical beauty and exciting whitewater for the whole family. Driving time is 1.5 hours to the river put in.
Rio Majagua
Class II  (limited trips – dependent on rainy season rainfall levels)

Located close to the city of David, this section is convenient for families looking for an introduction to the whitewater world.  Adults and children alike will take pleasure in this river's exciting whitewater as well as swimming through the many calm and tranquil pools found throughout this section. Driving time is 45 minutes to the river put in.
Contact Us for Your Whitewater Rafting Tour Now!
Top
Featured Multi-Day Packages
More Days in Panama?
Panama Package Tours and Specials
Interesting and Exciting! – Best that Boquete has to offer – Whitewater Rafting, Coffee Tour of a gorgeous Fair Trade plantation, and Hiking in the cloud forest of…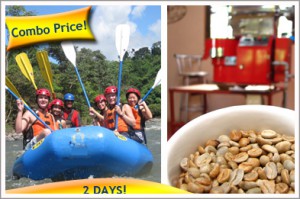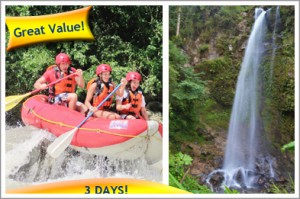 3 Days and 4 Adventures! – Whitewater Rafting, Island Trip, Waterfall and Wildlife Hiking, and a Coffee Tour in the best…
Extraordinary Adventures! – Panama Mountain and Island Tour – Whitewater Rafting, Coffee, Hiking, Zip Lining, Horseback Riding, and an Island Trip with Snorkeling with…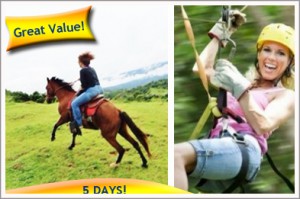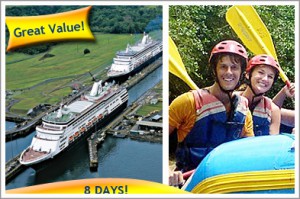 Panama Panoramic! – Experience everything you can do in Panama with this jam-packed itinerary with all the details taken care of! Highlights include the Panama Canal, Whitewater Rafting, an Overnight Island Trip to see monkeys and…